Moms are seriously awesome. But let's all agree that Black-ish star Anthony Anderson is a shining example of what it looks like to be too close to your mom — he revealed during an interview on Conan that his mom taught him everything he knows about going "downtown."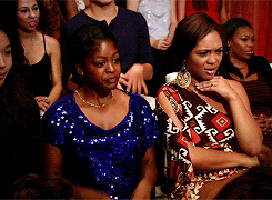 "I'll just cut to the chase: My mother taught me how to go downtown," Anderson said, as viewers everywhere recoiled in horror. "My mama taught me how to eat the cookie. Oral sex, Conan! Oral sex."
He continued, "I had just come home from college, and we had happened to be sitting around in the family room. Not only me, but my buddies and their girlfriends. She not only taught me and my brothers and my boys, but also the women how to do what they needed to do. My mother has a very extensive video collection, and she would put the videos on. And go into graphic detail as to what's going on in the video."

More: Nicki Minaj Is Trolling Y'all With That Pregnancy Pic
Let me get this straight. Anderson sat down with his friends and his mom, and then they all watched hardcore porn together while Mama Anderson explained in detail to everyone what was going on. Wut?
Even though Anderson went on to say that this experience was, for some reason, a "great time," the internet is having a really hard time handling this.
Soooo Anthony Anderson said his mom taught him how to give head……what in the

— Stajinn Uzumaki🇬🇾 (@CnoteGang) February 9, 2017

https://twitter.com/OnlyJaslyn/status/829750564145811457
Was Anthony Anderson high when he said this…. pic.twitter.com/uiRzcln4Cp

— Truth hurts (@Jasamgurlie) February 9, 2017

https://twitter.com/heartclaimed415/status/829748773572243456
More: Camilla Luddington's Pregnancy Is Making Her an Emotional Wreck
But also, because it's the internet and it's full of weirdos, some people are actually here for it.
https://twitter.com/tsmish/status/829753463546458113
There's always one.