The Bachelor's Corinne has become, like many villains before her, simply someone amusing to watch on the show. She doesn't actually have a shot at winning… right? Right?!
According to Nick Viall himself, she absolutely does.
More: Everything Nick Viall Has Done Right and Wrong as the Bachelor
"Maybe Corinne saves the season, I don't know," Nick said during an interview with Huffington Post. "This season has proven that anything is possible. I guess we'll have to first see what transpires for me walking out and if I pick myself back up. I mean, I know what happens, but I can't give it away. We'll have to see. But I think the intensity doesn't die down anytime soon."
Maybe Corinne's platinum vagina really is that good. Crazier things have, after all, already happened this year.
Right now in the show, Nick seems like he's about to call it quits on the whole Bachelor business and cry himself to sleep in a dark corner.
More: Sounds Like Corinne's Former Flame Wants Her Back Once Bachelor Wraps
I was screaming at my television when Nick walked out of the girls' hotel room after telling them he didn't know if he could continue on in the process. Why did none of the women run after him when he left crying?
No wonder Nick likes Corinne. Judging from the sneak peek, she's the only one who goes to him. Of course, she goes to him with plans to use her platinum vag, which could definitely be bad in his state of depression.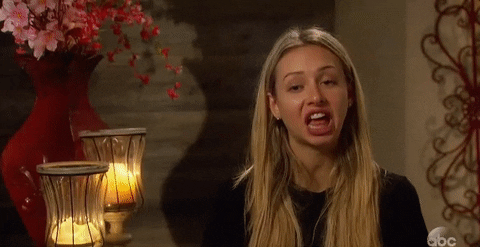 I think Nick learned his lesson about sleeping with a Bachelor lady too soon from his time on Kaitlyn Bristowe's season, so I don't think he'll have sex with Corinne. But that doesn't mean other shenanigans won't ensue.
More: The Bachelor's Corinne actually had a point about that Taylor 'tude
Will Corinne make it to the final rose or is next week her last?
Before you go, check out our slideshow below.