Kelly Ripa and Mark Consuelos just gave Nick Viall the best advice he could possibly get after last night's disastrous dumpster fire of an episode of The Bachelor: Run the fuck away.
More: Ben Higgins Isn't Packing His Bags for Bachelor in Paradise Just Yet
"I was reading some of this stuff, the facts about the selection of girls you had to choose from. OK?" Ripa said during Viall's appearance on Live! with Kelly Tuesday. "So one girl is 25 years old and still has a nanny. You need to run away. You need to run, OK? Another girl showed up in a shark-dolphin costume, I don't know how that is possible, but again, you have to run. One girl slapped you. One girl wanted to choke you."
Consuelos interrupted, "Saw that. That was weird. Good decision on your part there," about Viall's decision to send Jasmine home after their awkward talk and her profession that she wanted to choke him.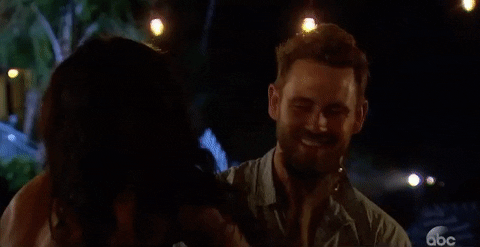 Their advice came a little late, since last night's episode ended with Viall having a little cry fest with the girls and then storming out, whining about how he's sure he's not going to find love on TV during his fourth attempt to find love on TV.
More: A Text Conversation Between The Bachelor's Corinne and Her Nanny Raquel
The rest of the segment was spent discussing some of the high (or low — who even knows anymore?) points of Viall's season so far.
"One girl threw up, yet you still made out with her," Ripa added.
Viall replied, "I was trying to make her feel better."
After the two hosts tried to convince Viall to try to find a girlfriend somewhere normal, like at a bar, he hinted at the possibility that he did find someone on The Bachelor.
"What if this all works out?" Viall asked.
"That's a big 'if,' dude," Consuelos said.
"You will have to tune in next week… I guess we'll see. I will try and picky my head back up and do better," Viall said.
More: Sounds Like Corinne's Former Flame Wants Her Back Once Bachelor Wraps
Before you go, check out our slideshow below.