If you've yet to watch Monday's Jane the Virgin, read no further. There are major spoilers ahead.
More: Gina Rodriguez Is Making Everyone's Jaws Drop With Her Super-Edgy New Look
We know JTV is a telenovela and drastic things are bound to happen more often than not, including characters dying. But we're having a hard time coming to terms with this particular death. That's right, a beloved character is no more. It pains us to even write this, but Michael (Brett Dier) died during Monday's episode, which means Jane (Gina Rodriguez) is now a widow.
What? How is this possible? At the end of Season 2, Jane and Michael finally got married. Then when Season 3 opened, Michael survived a gunshot from Sin Rostro. Things seemed good for these two, who were clearly meant to be.
However, throughout Monday's episode, Michael complained he wasn't feel well, which he and Jane pretty much wrote off as nerves over him taking the LSATs, though Jane packed him some antacids and Michael even promised to go to the doctor right after the test. After the LSATs, Michael stood up, fell to the ground and died. Based on the phone call Jane received at the end during which a doctor informed her about Michael, it appears he died due to complications stemming from being shot.
After Jane fell to the ground screaming and in tears upon learning the news, JTV shot three years forward with a scene of Jane getting ready for someone's mysterious wedding and a 4-1/2-year-old Mateo walking in to see his mother.
More: Girl Crush: Why Gina Rodriguez Is the Role Model I Want for My Daughter

This is a huge shake-up for the series. Granted, Michael's untimely death has been suspected ever since the narrator ominously teased in Season 1 that Michael would love Jane until his very last breath, which is clearly what happened.
However, we definitely didn't think it would happen this soon or somehow the series would figure out a way around the narrator's line. Why couldn't Michael live until he was 90 and then die loving Jane? Well, showrunner Jennie Urman had her reasons, and based on several post-mortem interviews, she's opened up about how the show will go on without Michael.
Not only did she assure TV Line that Dier will be back in flashbacks, but that "Michael is dead." Obviously, this is going to impact Jane greatly, which is partly why Urman decided Michael had to die. "Part of it is for the character, part of it is for the show," she explained. "Part of it is because this is a soap, and [you] need to keep things fresh and have big events happen and watch how characters spin out from those. Part of it is personal, experiencing loss in life and wanting to mine how one moves on and remains hopeful and optimistic."
Of course, seeing as there was a three-year time jump, we will now see a different Jane, who has somewhat come to terms with Michael's death. "Three years has allowed Jane to grow and heal, and the pain of Michael's death is not going to subsume our narrative or our comedy," Urman told TV Line. "We can't live in just how dark that was," though, there will be flashbacks to how Jane, in addition to the other characters, coped with his death early on.
It's all about the characters finding the light again, but especially Jane, Urman told The Hollywood Reporter. As much as she recognizes that fans will be upset over Michael's death, Urman said this pushes the story and the series in a much-needed way.
More: Gina Rodriguez Has Big Dreams for Grey's Anatomy — and We Say Yes!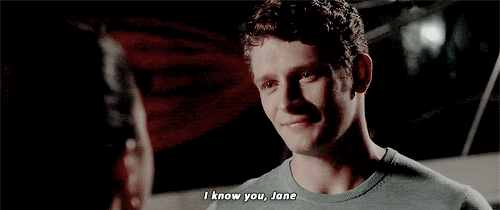 "I would also say it has opened up so much in the way of storytelling," she told THR. "When you're thinking about the show as a whole and the telenovela and where we're going toward at the end, whether Jane gets together with someone or whether she finds her happiness alone, I think it has opened it up in tremendous ways. It propels the season and the story forward. I hope people can appreciate that."
Urman also told Entertainment Weekly that when JTV returns, it almost feels like the pilot episode, especially since all of the characters are in different places than when we last saw them. It's kind of a like a reset button has been hit.
"Rafael has gone to jail, Xo, Rogelio, and Jane are all in very different places," she told EW. "There's a wedding that we're alluding to. And parenting stories are different now because we're not dealing with a 1-and-a-half-year-old. We have a 4-and-a-half-year-old, and the twins are 4. We have a lot of new places to go in terms of our parenting storylines. It's pretty exciting."
There's no doubt the dramedy will be extremely different without Michael, but his death will also open up an endless number of doors. Even though it's always good to keep a series fresh to push the characters forward and keep fans on their toes, Michael's death is beyond devastating.
We have faith in JTV because it has never disappointed in its storytelling before and Urman really can seem to do no wrong. Although, here's hoping she and the series can make up for Michael's death in a big way. Can it really succeed without him and Jane and Michael's love for one another?
Until we see the next episode and where the show goes from here, you can find us eating ice cream and crying our eyes out over Michael. We'll also be keeping our fingers crossed that all of this heartache we're feeling will soon dissipate. Too bad we can't jump three years forward in real life like the JTV characters.
Jane the Virgin airs Mondays at 9/8c on The CW.
More: Gina Rodriguez Calls Out Fellow Latinos for Lack of Support (PHOTO)
Before you go, check out our slideshow below.