Hillary Clinton is back in a major way, folks. I wouldn't mess around with the formal presidential nominee.
She. Means. Business.
More: Women of Shondaland Gather to Endorse Hillary Clinton (VIDEO)
For the 2017 Makers Conference, Clinton delivered the opening remarks in a video, making this her first recorded comment of a political nature since the election in November 2016. The video may have only been approximately 90 seconds long, but there was one resounding message in Clinton's speech: The future is female.

Clinton's Makers Conference video is a watershed speech in one major way — perhaps the only way, you could argue — and that is that the video confirms her unabashed feminism. While she had to scale it back (to the chagrin of some) to make herself appear more palatable to the American public during the election, Clinton gives zero cares now. In 2017, she is proclaiming herself as a feminist loudly and proudly; it is truly the most empowering thing to witness.
More: Hillary Clinton's Best Speeches Give Us a Look Into the Mind of a Nominee
Annoyingly, absurdly and yet expectedly, there's been a groundswell rejection of Clinton's "future is female" remarks. Despite the phrase having been around and in use since the mid-'70s, "The future is female" still manages to irk folks who don't understand that phrase is all about equality. Some have questioned why the phrase is so dead-set on honoring one gender during a time of greater awareness of a variety of sexualities and genders. This argument falls on deaf ears because it mocks rather than critically engages — and literally ignores the point of the phrase.
https://twitter.com/AlWilson725/status/828966763928883200
Others have hypothesized what it would be like if a man were to say something like, "The future is male." Honey, to that I say, "bless your heart," but pipe down because the future has always been focused on men's needs, desires and goals over that of women's. Every day, men say, explicitly or through their actions, that the future is theirs and frankly, look where it's gotten us. It ain't good.
More: Why Hillary Clinton's Clothes Matter So Much (Hint: They Don't!)
Clinton's Makers Conference video is simply beautiful because it's nice to see an ally for women back in the spotlight. We are mere weeks (yes, only weeks and not years, which is what it feels like) into Trump's administration, and it's easy to feel like the world is imploding, the clock is rolling back and soon we'll be living in a hellish dystopian future that would make Katniss Everdeen run for the hills. This video from Clinton is a warm hug and a rallying cry for women of all colors, creeds, genders, sexualities, socio-economic backgrounds and political leanings to embrace one another and celebrate their womanhood.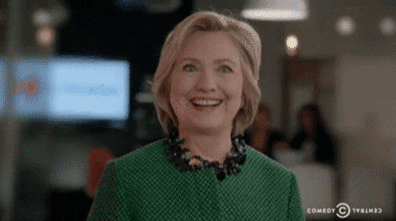 It's good to have you back, Clinton. We missed you.
Makers is a storytelling platform for the trailblazing women of today and tomorrow. For more information and to tune in to the live conference, please visit please visit: Makers.com.
Before you go, check out our slideshow below.