One of the actresses who has long been at the forefront of fighting sexism in Hollywood is a little surprising: Kathy Najimy. Yes, the comedian from Sister Act and Hocus Pocus. The one who voices Peggy on King of the Hill. She's a little under the radar, but she's also your new feminist queen.
This video from Makers, a storytelling platform for the women who are trailblazing in the entertainment world, sums up Najimy's career pretty well. From starting a feminist two-woman stage show back in the '90s all the way to speaking out against religious profiling and persecution today (hello, intersectionality!), Najimy has been fighting for most of her life to make the world a better place for all people.

And a lot of that has started with just bucking the idea of what a woman is "supposed" to look like in Hollywood.
"I had a quick lesson that there was a way that they thought women should act and speak, and certainly a way that women should look," Najimy says. "I'm not going to say that it wasn't a sad moment for me. It was. I think if you are always — and we are all always 'too fat,' 'too thin,' 'too dark,' 'too light,' 'too old,' 'too young,' and just not how we're supposed to be. And if we aren't ever how we are supposed to be, we are not able to rule the world."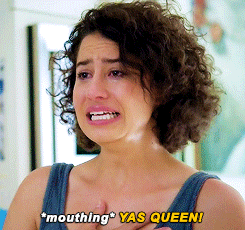 Najimy's next move is to join in the evening performance at the Makers Conference tonight, where she'll be joined by other powerful, trailblazing women like Octavia Spencer, Eva Longoria, Gloria Steinem, Sheryl Sandberg and more.
#BeBOLD and tune in to the Makers conference starting Monday night at 6 p.m. Watch the live stream on Makers.com.
Before you go, check out our slideshow below.