Unless you've been trapped in that water-filled bedchamber from Lemonade for the last, oh, I don't know, few hours, then you've probably heard that Beyoncé is pregnant with twins. Yes, that's right: the Messiah of Pop Music, the Chosen One, the lone bright star in a sea of imploding planets Beyoncé has somehow deemed us fit to participate in her pregnancy with her by sharing her good news on Instagram. The heavens are smiling on us today, my friends, and I don't know what we did to deserve it.
More: Beyoncé shares sweet Easter pics of Blue Ivy & Solange (PHOTOS)
If you haven't already been admitted to the ICU for Beyoncé-related heart attacks and seizures upon learning of this great and glorious news, then you're probably just stuck staring at your phone. Why? Because this pregnancy announcement is the definition of "lit," "fleek," and whatever else the youths of today are saying. It's a work of art. It's somehow perfect for both Instagram and the Louvre (I can't quite say how that's possible, but it is), as if to say everyone — regardless of race, gender, sexuality or socio-economic standing — should have access to this picture.

Can you even believe that you're alive right now to see this? Can you?!
First, let's take a moment to really soak in what we just gazed upon. If you're not the version of Oprah pictured below, then I question whether you're not just a semi-sentient robot.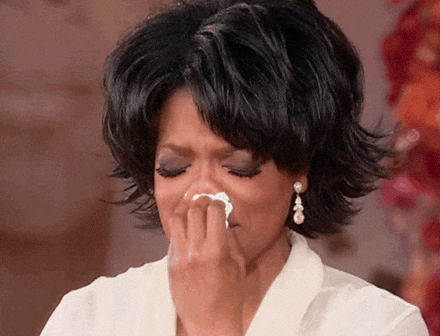 OK. We good? Let's analyze the elements of this truly unique piece of art — ahem — I mean pop culture iconography.
More: Beyoncé and Jay Z: 13 outlandish & bizarre rumors about their "secret" life
The flowers
Beyoncé's surrounded by flowers. They evoke a kind of springy, fresh, vibrant vibe, right? Perfect for when you want to announce that there are two lives growing inside of you. If Beyoncé is trying to evoke this eternally young imagery, then she's nailed it. If she wanted to say, "Hey, I'm literally more beautiful than these flowers because my pregnancy glow is 100 percent but I wanted to still have flowers," then she nailed that too. Or maybe she just wanted to give us something to look at when needed to avert our gaze because looking at pregnant Beyoncé is super-overwhelming (in a good way).
Bless those flowers.
More: Jay Z's long-awaited response to Lemonade isn't quite what we expected
The outfit
Oh, you thought Beyoncé was just gonna rub her tummy casually like she did when she celebrated her pregnancy with Blue Ivy? Oh, you also thought she was going to cover up her belly and make us squint to see her beautiful baby bump? Psh, c'mon now. You know better than that. If Beyoncé is pregnant with twins, she's going to show. It. Off.
She's wearing a veil, people. Do you think she was ever going to be understated wearing a freaking veil? I think not. But I love and respect this bold choice. It is the single greatest thing about this photo, aside from the babies.
Beyoncé also chose a lacy maroon bra and ruffled baby-blue bloomers and literally nothing else to wear for this picture. Now, you could make the far-fetched argument that maroon is just an ultra-dark pink and thus, the maroon and blue signify a boy and a girl, so Beyoncé is having a boy and a girl. But that's too wild. I'm getting ahead of myself now. The only safe conclusion is that she looks amazing in nearly nothing at all.
The staging
The stare. The kneeling pose. The hands around the belly. The fact that she is simply looking out from a Macy's-meets-Baz Luhrmann set piece. It's all too much to handle. My mind is on overload from how simple yet chic yet so utterly campy it is. I really couldn't think of a more Beyoncé way to set this up if I tried.
There you have it. That's all that can be said about Beyoncé's pregnancy announcement without me bursting into tears from its beauty. Truly, you better thank your lucky stars Beyoncé took time out of her precious day to bring all the elements of this announcement together. I don't know what we did to deserve her.
Before you go, check out our slideshow below.