Harvey's estrangement from his mother is something he's been very open about. Ever since discovering at a young age that his mom, Lily, cheated multiple times on his father (who Harvey adored greatly) and then his mom asking Harvey to keep it a secret from his dad, the lawyer has faced many personal issues.
More: Suits' Mike just pulled a Dead Poets Society, & we totally need more
Well, not only did we once again get a glimpse into Harvey's past during Thursday's episode, but we also saw something that both viewers and Harvey probably thought would never happen. Harvey and his mom finally made peace.
The episode opened with Harvey seven years ago going back to Boston for his father's funeral. It was beyond heartbreaking for him, especially since he and his father were so close. Things became even more tense when Harvey came face-to-face with his mom at the funeral.
Firstly, he didn't want his mom speaking at the funeral and saying anything about his father. Though Harvey's brother Marcus helped him come to terms with it. Admittedly, Lily did give a touching speech, which focused on her ex-husband's love for his sons. It even caused Harvey to shed some tears.
It looked like things were going well and Harvey was about to make things right with his mom at the wake, but before that could happen, her partner Bobby, whom she cheated on Harvey's father with, showed up. Harvey was not happy and stormed out.
More: Suits Season 6 photos tease an unpredictable time for Specter Litt
This brings us back to the present day. During the Season 6 winter premiere, Donna told Harvey he needed to go make amends with his mom. After all these years, it was about time. For way too long, Harvey has let what Lily did eat him up inside, cause intense anger and affect his relationships.
Like Harvey usually does, he listened to Queen Donna and went to Boston. It took guts for Harvey to do what he did, and of course a reconciliation with Lily didn't come easily. They had a stressful dinner causing Harvey to yet again walk away from his mom.
At first, it didn't seem like Harvey and Lily would find any common ground, but after Bobby lit into Harvey and Marcus told his brother that enough is enough, Harvey realized it was time to make things right. As he told his mom, he doesn't hate her, but he does hate what she did. Lily did apologize and feels truly sorry for hurting Harvey so badly. So that's that and Harvey and Lily are once again in each other's lives.
It looks like Harvey can finally put all his mommy issues behind him and move in a positive direction both professionally and personally.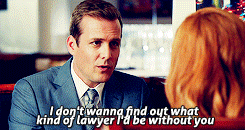 Getting that closure with Lily is something Harvey has deserved for a long time. We're sure there will still be times when Harvey finds himself surrounded by drama and gets angry, but establishing a relationship with his mom just might be the key to a happier Harvey.
Plus, now that the void seems to be filled, this could also mean a Harvey and Donna relationship is on the horizon. You can't be truly happy with someone until you are happy with yourself, and it sure seems like this is the direction Harvey is heading.
Between his mom and Jessica, Harvey is slowly healing, so here's hoping only good things are to come for him.
Suits airs Wednesdays at 10/9c on USA.
More: Jessica's Suits Season 6 departure was perfect
Before you go, check out our slideshow below.