All right, get the eye-rolling out the way now because what you're about to read is necessary if you want to stay in the political and cultural loop but your soul may die a little from reading it. Amy Schumer defended her second cousin (once removed), Senator Chuck Schumer, against President Trump's most recent Twitter barbs through a recent impassioned Instagram post. Now, if you're wondering what the president of the United States of America is doing tweeting insults about a senator, congratulations: You're on the same page as Amy Schumer.
More: Amy Schumer applauded for Taylor Swift apology without excuses (PHOTOS)
Schumer was clearly not up for the guff being given to her relative. She posted the damning tweet of Trump's, which characterized Senator Schumer as "Fake Tears," in reference to his recent words on the refugee crisis and the tears he shed while giving a speech about it. Amy Schumer managed to take a screenshot of the tweet before it got deleted and wrote a scathing reply to Trump while defending the actions of her cousin.

Her reply to Trump's "Fake Tears" comment, which appears quite unpresidential in tone, doesn't mince words. Schumer takes a moment to remind us that Trump is more obsessed with her relative than he is with the state of the country, including soldiers and civilians who have already died on his watch. Schumer then goes on to state clearly that Senator Schumer "cannot act," implying that the obstacles he faces at the moment in overcoming the allegedly harsh and unfair executive orders being issued by the president are real.
More: Amy Schumer was right to be royally pissed at one downright disrespectful fan
Schumer's defense is necessary in times like these when it can feel tough to wrap your head around what the heck is actually going on in Washington, D.C. There's no doubt that many of us have strong opinions and feelings about the state of the country; Schumer's Instagram post confirms that it's just as tough as we think for those politicians with our best interests in mind. As she put it, Senator Schumer "can barely smile on cue. He can't help but be transparent and genuine. He was hurt for those people and all the people facing such unconstitutional injustice."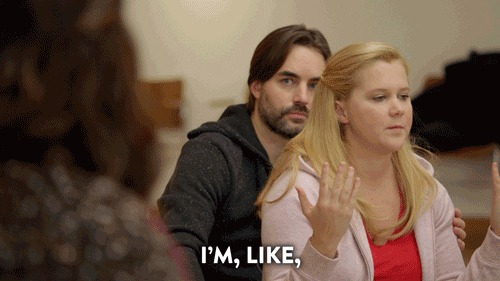 Perhaps one benefit of listening to celebrities in times like these is that, in the case of a handful of them (like Schumer), there is a direct line of communication to Capitol Hill. Schumer's status as a celebrity allows her the platform to speak on important issues too. In the past, she's used it to voice her support of Hillary Clinton; in the case of defending her cousin, that platform came in handy yet again.
More: Amy Schumer left a lasting impression on her boyfriend's brother
While it's far from comforting to hear that Senator Schumer is one of many who are mired in political turmoil right now, it's heartening to see that he has a loud and proud family member coming to his defense. We may not know what the coming weeks and months will bring, but if anything, I'm glad we've got Amy Schumer speaking up and speaking the truth when the occasion demands it.