Every day when the clock strikes 4 p.m., I mourn just a little bit. I know it's been six years, but I still miss The Oprah Winfrey Show. I know that she has an entire network now filled with delightful shows like Oprah: Where Are They Now? and Super Soul Sunday, but I still miss The Oprah Winfrey Show. I know that she has just announced that she will be a special contributor to 60 Minutes, but I still miss The Oprah Winfrey Show.
In fact, maybe all this stuff just makes me miss it more — like when you bump into an ex with a new person on their arm or when you eat an OK piece of pizza that is just good enough to remind you of a really good piece of pizza from your past.
More: Oprah Winfrey Joining CBS's 60 Minutes Couldn't Have Come at a Better Time
Especially these days, I just miss the hour of positivity and insight in my days — a chance to reassure myself that not everything and everyone is out for themselves and also a chance to see some really uplifting makeovers. Who knew a wrap dress and a flirty bob could really change everything?
Anyone else just want to sit back and think about our favorite Oprah Winfrey episodes? Let's get in the way-back machine.
The time she asked her audience to pay it forward
In October of 2006, Winfrey gave each person in her audience $1,000 and a handheld camera and asked them to do one simple thing: something good. The results, which came in one week later, were so emotionally buoying that I think I'm still a little high from it. While some people simply gave the money to a good cause, many used their funds as a jumping off point for larger projects: Minnie Scheidt used her cash to raise over $70,000 for a community member with cancer, while Megan O'Gorman spent her money to help the parents who lived in the Hawaiian Islands buy plane tickets to see their sick children in a Honolulu hospital. She was shocked when Go! Airlines paid it forward again with 40 extra tickets.
This was Winfrey at her best: taking a simple idea and spreading it across the country while also inspiring people at home to take action in their own lives. The only problem — we can't find a clip of it anywhere online, but you can watch the story of one woman who paid it forward here. But don't worry, we have tons of other clips below!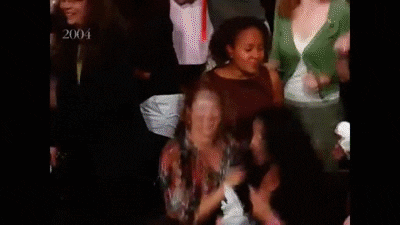 The Coble family finding hope after tragedy
I literally cannot rewatch this clip due to unstoppable crying jags, but if you haven't seen it, you probably should. In October 2007, Winfrey interviewed Lori and Chris Coble, a couple who lost their three children, Kyle (5), Emma (4) and Katie (2) in a horrific traffic accident with a tractor-trailer. The story makes you feel bad about every single time in your entire life that you ever felt bad for yourself. But don't worry; after a few devastating segments, Winfrey reveals that the couple decided to try to have more children and almost exactly a year after the accident, they gave birth to triplets: two girls and a boy. Spoiler: each child's middle name is the first name of one of the children the couple lost.

More: Oprah Winfrey Sets the Record Straight About Her "Secret Son"
Her "all good news" show
Tell me you wouldn't watch this right now. In October 1993, Winfrey decided that she was going to dedicate a show to 100 percent good news. During the episode, she gave a pair of hardworking parents a night on the town by babysitting and even literally gave a little boy a puppy. Not only was it a wonderful hour of uplifting events, it also contained definitive proof that Winfrey isn't totally perfect: She isn't the best at child care.
Looking racism in the eyes
The Oprah Winfrey Show wasn't all about puppies and makeovers. Even in its earliest years, she took on the most serious issues, from AIDS to racism. In her first season, and in one of her most memorable shows, she visited Forsyth County, Georgia, a place where no black people had lived for 75 years and a hotbed of racism. In one of the most intense shows ever, she talked with the community and shed light on a difficult issue that badly needed to see both the light of day and Winfrey's careful, surprisingly compassionate handling.
Erin Kramp, the best mom ever
Do you still have your tissues out from watching the story of the Coble family? Good, because you are going to need them. Starting in 1998, Winfrey followed the story of Erin Kramp, a young mom who was dying of breast cancer. Kramp had a 6-year-old daughter, Peyton, and decided to leave her with a wealth of video recordings plus birthday and Christmas presents for years to come. Not only was Kramp basically the best mom on Earth, she also doled out no-nonsense advice, like "Never get a haircut when you are going through a difficult emotional time," and "When it comes to your husband, pick a very, very nice guy who has a lot of backbone."
After Kramp lost her battle with cancer, Winfrey checked in often, following the family through remarriage and up to when Peyton entered college. She still watches the videos, now digitized, often.

More: Michelle Obama Tells Oprah the Sound Advice She Gave to Melania Trump
The time she tricked her Favorite Things audience
As long as she is not the one getting surprised, Winfrey loves a good little prank. My favorite one came in her last season when she was borderline cruel to her last Favorite Things audience. She and her crew set up the show so that the audience thought that they had just missed the Favorite Things filming — they saw all of the previous audience members walking out of the studio loaded down with bags of gifts. Only after teasing them for a few minutes does she reveal that, nope! they were the lucky ones.
As Winfrey says in the accompanying interview: "That was really just done so that I could entertain myself." You and me, both, Oprah. Please come back to us and please never change.
What do you think of Oprah Winfrey joining 60 Minutes? Let us know in the comments below.
Before you go, check out our slideshow below.