I think it's safe to say that the Taylor Swift backlash is in full swing. First, there was her summerlong PDA extravaganza with Tom Hiddleston, which left many cringing; then in late January, she drew harsh criticism for her involvement (or lack thereof) in the historic Women's March; today Swift woke up to find herself the subject of a media takedown on a wildly popular website.
Talk about bad blood.
This morning, BuzzFeed's Ellie Woodward posted an article titled "How Taylor Swift Played the Victim For A Decade and Made Her Entire Career."
The article offers a studied timeline supporting the opinion stated so bluntly in the title: Taylor Swift has made her career by casting herself as the victim in romantic relationships, friendships and in the now-infamous feud with Kanye West and Kim Kardashian West.
It's a bold viewpoint and she does a thorough job of supporting her opinion.
Woodward points out that Taylor Swift's early songs often paint her as an innocent party in love gone wrong or the victim to a man who mistreated her, saying, "The notion of sexual innocence emerged as she cried over her best friend giving 'everything she had' to a 'boy who changed his mind', and through the repeated mention of a highly sexualised "other woman" swooping in to steal her love interests. Her innocence also contributed to the emotional impact of the most common theme of all: Swift as the victim of the behavior of a bad boyfriend, or rejection by her crush. This is a common trope in teen pop music, but for Swift it became the very foundation of her posture as victim."
More: Criticism Hurled at Taylor Swift Exposes a Problem With the Women's Movement
Woodward goes on to detail how Swift began to cleverly construct her own image in response to the reception this victimhood received, manipulating the meaning of her music and the media's portrayal of her to do so.
The public was more than willing to accept the image of a blond, blue-eyed white woman as the tremulous victim of cruel men, backstabbing friends and circumstance — something that became abundantly clear in the infamous moment Kanye West interrupted her Grammy Award acceptance speech in 2009.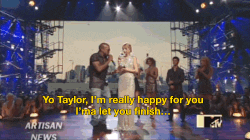 If you have 10 minutes, definitely give the article a read — it's well-written and well-researched. It demonstrates just how media-savvy some celebs are and how useful celebrity gossip can be when untangling complex cultural narratives of privilege, racism, misogyny and public opinion.
The question we're supposed to ask ourselves now: Is Swift the Regina George of Hollywood? Does she trade on victimhood, throw rivals under the bus and use the powerful concept of white fragility to further her career?
Well, I mean damn. All available evidence seems to support this theory and the way Woodward neatly compiles it in one place makes coming to this conclusion almost unavoidable.
More: After Tom Hiddleston, Taylor Swift's Changing Her Approach to Relationships
The real question, I think, is whether or not Swift felt she had other options.
Like it or not, the music industry isn't about music anymore; it's about a brand, an image, a narrative.
Swift released her self-titled debut album when she was 16 years old. She began in country music and played into the sweetness of the genre. When she later transitioned to the world of pop music, she seemed uncomfortable playing the sexualized siren like Britney Spears before her.
You can almost imagine record execs sitting around a table debating how to package her, what pigeonhole she could most believably occupy. Pop culture doesn't give young women a whole lot of options, and Swift didn't seem confident enough to create her own.
The last seven years have shown us what that conversation has evolved into — a young woman trying to find her story. Is she the young ingenue? The jilted lover? The serial dater? The kind older sister? The fierce feminist?
Swift is 27 years old — old enough to know how to treat fellow women; conduct relationships in a mature way; wake up to the very real issues of systemic racism, cultural appropriation and gender issues. But is 27 old enough to play the game of public opinion when the rules seem like they're constantly shifting?
More: Taylor Swift's Ex-Fling Matty Healy Makes Misogynistic Remarks About Her
Is 27 old enough to navigate the complex and challenging way we view women — their relationships, their success, their ambition and their ability to construct their own narrative? How about when those opinions number in the millions?
Women are never too old to be demonized, too young to be sexualized. Walking the tightrope of public opinion is no easy feat, and Swift has absolutely made more than a few missteps. But as she retreats from the public gaze to gather herself and reframe her story, let's root for education, growth and above all, the emergence of a narrative that doesn't rely on stepping on others to lift herself up.
Because what's lost in this conversation is the fact that Swift is a powerful singer, an award-winning songwriter and accomplished musician. Let that be enough.
What do you think — is Taylor Swift the Regina George of Hollywood? Let us know in the comments below.
Before you go, check out our slideshow below.