It's official: Your fave breakout star (admit it, she's your fave), Millie Bobby Brown, will star in Godzilla: King of Monsters because hello, who else do you trust to battle crazy scary monsters? That's right. You don't trust anyone else, because Brown is the only one who could save the planet. Better yet, I think it's great that Brown is being given more chances to showcase her badass combat skills, in whatever capacity that will be used in the Godzilla sequel. We must all bow down to Brown; she's got this.
More: Stranger Things' Good Girl Natalia Dyer Is Living a Real-Life Love Story
Details are relatively thin on the ground in regard to the character that Brown will play or the exact plot of the sequel. What we do know, though, makes it sound incredibly exciting. With Brown in the lead role, something tells me this film is going to know our socks off. This biggest thing we know is that King of Monsters is the intended sequel to 2014's Godzilla reboot starring Aaron Taylor-Johnson, Elizabeth Olsen and Bryan Cranston.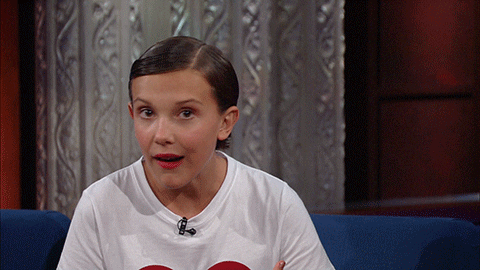 According to Complex, the Godzilla sequel will take place in the same universe as the first one and (bonus) the same universe as other Legendary/Warner Bros. monster movies on the studio slate, including Kong: Skull Island, which is due in theaters this summer. This connected universe means that there will be a bigger potential for monsters, mayhem and maybe (hopefully) a whole lot more Brown coming in to save the day.
More: Stranger Things star Millie Bobby Brown & 8 other actresses who shaved their head for a role
Brown's casting in one of the lead roles is definitely interesting, considering a film of this magnitude. It implies that King of Monsters could be told through a young girl's perspective — huge for a monster movie — and hopefully that Brown will appear in future Godzilla films, because who the heck is going to kill a child who is the lead role?
More: We already know 13 things about Stranger Things Season 2
Unfortunately, King of Monsters won't hit theaters until 2019. Lucky for us, Brown will be back in Stranger Things Season 2 later in 2017, so we can get our fix of her greatness sooner rather than later.
Before you go, check out our slideshow below.