It's pretty good to be Gigi Hadid these days. She's young and beautiful, she travels the world and she has hot, high-profile relationships with bedroom-eyed crooners.
The career she's built up is nothing to sneeze at, either.
More: 8 Things Gigi Hadid and Zayn Malik Have in Common
Having walked in fashion shows for Versace, Chanel, Marc Jacobs, Miu Miu and more, Hadid has no doubt made it in the modeling world. She was named 2016's International Model of the Year by the British Fashion Council, and December 2016 marked her second year of walking in the Victoria's Secret Fashion Show and the first year she walked wearing the trademark Victoria's Secret angel wings.
By all accounts, she's made it.
More: Supermodel Baby Names
In case there was any lingering debate, however, this latest milestone proves it beyond a shadow of a doubt.
Hadid's NYC apartment in trendy NoHo, which I imagine to be somehow both comfortably bohemian and effortlessly elegant, now features a direct view of a several-stories-tall, two-part billboard plastered entirely with a picture of her.
Seriously.
The billboard, featuring Hadid wearing a leotard under a trench coat and doing a jaunty high step in over-the-knee suede boots, is part of her work with the shoe brand Stuart Weitzman, one of the many brands for which she's appeared in print campaigns.
Hadid previously collaborated with the designer to create the Gigi Boot, a badass, metallic-finish boot with a stacked heel described somewhat bewilderingly as a "hiking bootie."
Larger than life
If this was my apartment, which it never would be because it's probably worth $18 million and I have so very much less than that in the bank, I would stare at that damn billboard all day.
Here's how I imagine what's going down chez Gigi these days:
Every one of her pictures now features an "accidental" shot of the billboard in the background. When people point it out, she's all "Haha, whaaat? The billboard snuck in again? Gosh, sorry! It's just so big!"
She now takes all of her meetings in her living room directly facing the view of the billboard. She's rearranged her entire apartment to facilitate this. When she's feeling stumped or stressed, she sits looking into her own larger-than-life eyes for guidance.
More: Gigi Hadid Should Have Elbowed the Guy Who Assaulted Her a Lot Harder
Get it, girl
Some may call this kind of behavior vain, self-indulgent or excessive, but if you've hustled this hard to make it this far and you have a goddamn billboard of yourself outside of your the window of your New York City apartment that you probably paid for in cash, I say you've earned a little self-indulgence.
Gigi, I hope that you're sitting on your couch right now sipping tea, staring at that glorious billboard and relishing every damn minute of your success.
You've earned it.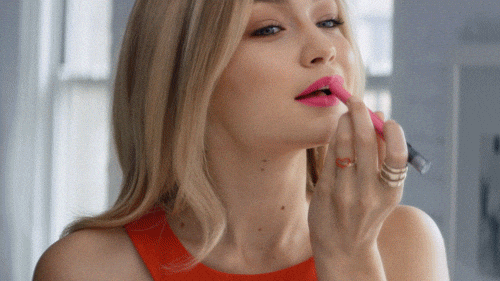 Before you go, check out our slideshow below.