Of course Tom Brady and Donald Trump are friends. Of course they are. Brady is, after all, the most hated man in the NFL, and Trump is the most hated man in the White House. At least by 50 percent of the country… give or take.
More: Gisele Bündchen opens up about Tom Brady's scandalous past
The news that these two go way back got people all riled up, of course, just like people got upset over Abigail Breslin's friendship with Tiffany Trump.
But the news just made me wonder: What do these two talk about, exactly?
Trump: I'm thinking about making New York Jets owner Woody Johnson the ambassador to Britain.
Brady: (Grumbling) I wanna be an ambassador.
Trump: Don't be weak like a baby. Johnson is a billionaire, like me, and he's from New York, like me, so he's perfect! Plus, I hear he can properly inflate a football. Tom, you've got a bigly important Super Bowl to win.
Brady: Just like you won the election. God, it's good to be a winner.
Trump: Yes, we should celebrate with some really fantastic drinks. Bring your wife.
Brady: I will! Just keep your hands away from her pussy, please.
Trump: This is gonna be 'UGE!'
More: Ben Affleck's Deflategate rant was more about his private life than Tom Brady
That's about how I imagine it would go.
All joking aside, Brady clearly isn't in on the plethora of memes and GIFs that could be headed his way thanks to this news.
"Why does that make such a big deal? I don't understand," Brady said during an interview with the WEEI Kirk & Callahan radio show. "I mean, I don't want to get into it, but if you know someone, it doesn't mean you agree with everything that they say or do, right? You have a lot of friends in your life [like that]."
Yes, yes I do, but none of my friends are currently running the United States of America. When I get together with my friends and debate the merits of Trump's wall, we don't actually have to worry that our back and forth arguments will amount to anything other than gaining a better understanding of the world.
More: Donald Trump is rich, running for president and a little nuts
A debate with Trump on the other hand? Well, we've all seen how that one went down.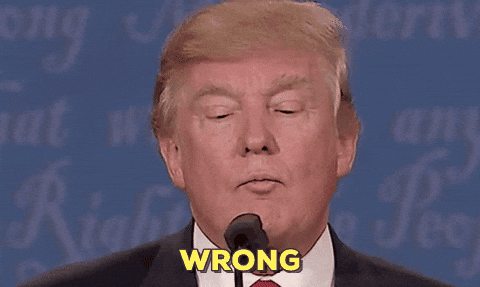 Don't forget, Trump used to call Hillary Clinton a "friend" too.
Before you go, check out our slideshow below.