Another week, another Top Chef rookie eliminated. This time it's Chef Jamie Lynch. You should have used your immunity, man!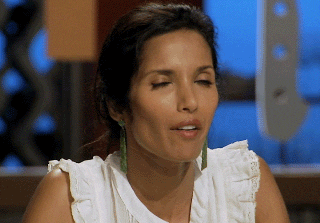 But, it was an admirable move. We'll give you that, sir.
More: Top Chef's BJ Smith reveals how challenging it was being on the show
So, how does Lynch feel about what went down? Let's dive right into our Q&A with the chef.
SheKnows: Were you surprised by your elimination?
Jamie Lynch: Yes. I figured they would accept my immunity, but didn't expect I would be the one to go considering the mistakes on other chefs' dishes.
SK: What was it like working with all the judges on the show? Who's the most intimidating?
JL: Tom [Colicchio] is the most intimidating because he is a badass chef. His palate is more refined and he can decipher your technique through tasting which is nerve-wracking.
SK: Which contestant do you think deserves to win? Or who are you rooting for?
JL: Me. I'm still on Last Chance Kitchen and in it to win it.
More: Who should win Top Chef? Amanda Baumgarten has three female chefs in mind
SK: Who did you consider your biggest competition?
JL: I think everyone there is talented and capable, but the veterans were the ones to look out for the most. I look forward to cooking with all of them again.
SK: Was there anyone on the show you really clashed with? Who was it and why?
JL: No. I got along and have respect for everyone. As long you don't let Katsuji [Tanabe] rattle you or get to you.
More: Top Chef's Silvia Barban & Sylva Senat apparently had beef on the show
SK: Who do you think deserved to go home on last night's episode?
JL: There were a couple of other options that were better options than me. But the judges made their decision and I respect it.
SK: What was the best experience you had on the show?
JL: The quick-fire wins felt the best. Being on top is the best feeling, especially in that field with some really excellent chefs.
SK: What was the biggest challenge for you on the show?
JL: Being removed from everything during filming and having no idea what was going on outside in the world. We had 5Church opening in Atlanta and it was tough to be in the dark through that process.
SK: Who's your favorite Top Chef contestant of all time and why?
JL: Kevin Gillespie. He's an awesome chef and in general seems like a good dude with solid values and cooks from his heart. I have mad respect for him.
Before you go, check out our slideshow below.