If you somehow haven't seen La La Land yet, our condolences — and maybe stop reading this post.
Perhaps the greatest lesson from the film is that sometimes what you love will be sacrificed for the sake of the greater dream that drives you. It is the lesson that seems to resonate with star
Emma Stone
the most. She and her on-again, off-again love
Andrew Garfield
seem to emulate the characters Mia and Sebastian from this film with their own
La La Land
love story in real life.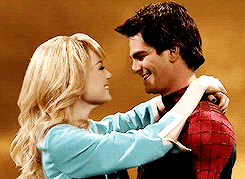 More: Andrew Garfield goes on rant about Hollywood and our shallow society
1. They've broken up but still care deeply about one another
In an interview with The Hollywood Reporter, Garfield revealed if he could only bring one person to a deserted island with him, it would be Stone.
"I love Emma. She's all right. She can come," he said.
2. They support one another
Just as Mia (played by Stone) was still utterly inspired by the music Sebastian (Ryan Gosling) played at the end of La La Land, so too is Garfield still inspired by Stone.
"I'm so excited for her tonight. And my fingers are so crossed for her; it's insane," Garfield told Access Hollywood on the 2017 Golden Globes red carpet.
It looks like Garfield's finger-crossing paid off because Stone won the award for Best Actress in a Drama.
More: 7 times Andrew Garfield's beard swallowed his face whole
3. If circumstances change, they could find their way back to one another
Sure, Stone's character in La La Land ended up married with a kid, but the ending still felt hopeful with the beautiful montage of a happy ending for the two. Stone and Garfield could still find it together since neither of them have yet found it apart.
4. True love is sometimes put aside for the sake of dreams
Garfield and Stone reportedly broke up most recently because Garfield was ready to start a family and Stone wasn't at that place in her life. Of course, that's different than the storyline in La La Land, but the parallels still hold true since, for the sake of her career, Stone stepped away from the relationship. If the rumors are true, it had nothing to do with the fact that she didn't love Garfield.
More: Emma Stone and Andrew Garfield giving us hope for a reunion is just wrong
Let's hope that Stone and Garfield end up right where they're supposed to be five years from now. Of course, if they don't end up together, then every red carpet where they run into one another, we'll be picturing something like this:
What other parallels do you see between the Stone/Garfield love saga and the one depicted in La La Land?
Before you go, check out our slideshow below.