Two women dominated the 2017 Golden Globes tonight, and deservedly so: Tracee Ellis Ross and Viola Davis. Both actors are women of color and currently at the top of their game. Their Golden Globe wins cemented (for Ross) and confirmed (for Davis) that fact. What their wins also confirmed was that, for women of color in Hollywood, representation in meaningful projects is possible — and better still, it is worthy of universal recognition.
More: #OscarsSoWhite: How this year's nominee diversity compares to previous years
Ross, for her part, was not only a first-time Golden Globe nominee for her role in ABC's Black-ish, she was also the first black woman to win an award for Best Performance by an Actress in a Television Series, Musical or Comedy, in more than 30 years. That superlative is indicative of how desperately times have needed to change in the landscape of film and television. It should go without saying that a 30-year interim is too long a dry spell for women of color in television to get their due, especially when we have a more diverse television environment than ever before.
More: Viola Davis brought the room to tears with her Emmys 2015 speech (VIDEO)
Davis accepted her Golden Globe and gave a speech that expressed the importance of representation and her role in that: "I believe that it's our responsibility to uphold what it is to be an American and what America is about and the true meaning of what it means to pursue the American dream. I think that America in and of itself has been an affirmation, but I think we've fallen short a lot…So, then, what does that say about us? And I think that, if you answer that question, I think that says it all."
Tracee Ellis Ross is the 1st black woman to win for TV Actress in over 30 years.

Debbie Allen won for Fame in 1983. #GoldenGlobes pic.twitter.com/KzlcMD69ls

— AJ+ (@ajplus) January 9, 2017

Davis' words effectively answer the outrage that was the #OscarsSoWhite conversation in recent years. Where previous award seasons honored mostly white actors, these Golden Globes wins could be part of a rising tide toward equal awards favor.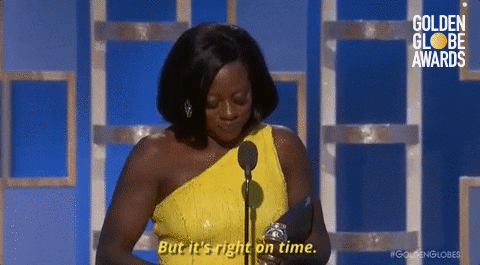 The wins for Davis' and Ross' respective work are an important step forward. For women of color in particular and for all women working in film and television, these wins prove that representation matters. For women of color, it is a major step forward to see Davis and Ross' work validated and honored, especially when that work is telling stories so deeply connected to gender and race in America.
More: What you didn't see in Hidden Figures about the real people who inspired the film
Congratulations on your respective wins, Ms. Ross and Ms. Davis. You are two immensely talented women who deserve nothing but praise and adulation for your work.
Before you go, check out our slideshow below.