Another day, another cryptic message out of The Walking Dead camp — the latest of which is a photo series of, uh, nuts. And cantaloupes. And a collection of dirty rubber duckies. Also known as "Go home, AMC… you're drunk."
More: [SPOILER] died on The Walking Dead mid-season finale, and war is on the way
Although, as bizarre as these new teaser pics are, they seem kind of par for the course, don't they? The Walking Dead is like that mysterious bad boy you dated in high school. You were never quite sure if his nonsensical ramblings were a load of shit or if he was truly profound, but it got you hot either way.
At least with The Walking Dead, everything is usually revealed in due time. So what in the fresh hell could these new photos be hinting at? Doesn't AMC know we're busy trying to solve other first-world problems like getting our winged eyeliner even (impossible as it may be)?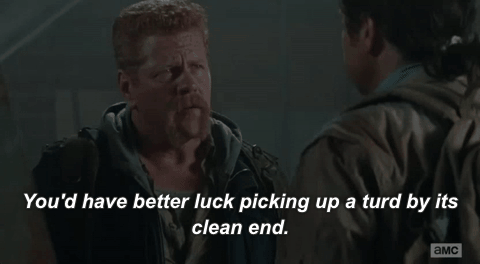 To be honest, when I look at the photos, I got nothing — they're like a macabre assortment of photographic tarot cards. Or a rebus. You remember those, right? Like, an eyeball plus the letter H plus an ear plus a sheep would be "I hear you." Oh, hey, yeah… I suck at those.
More: TWD scenes between Negan & Carl echo the comics, but will it stay that way?
Thank God for the good people of the interwebz, though, 'cause they're full of ideas (#blessed). According to idle speculation online — which, let's be real, is right up there with hard journalism these days — the random amalgamation of produce-related pictures hints at a new group arriving on the scene, which is affectionately being dubbed "The Garbage Pail Kids."
Sidebar: Where my '80s babies at? Someone needs to make a spoof video of Adam Bomb and Joltin' Joe squaring off with the Saviors, stat.
Now, back to our regularly scheduled programming: The other photos seem to indicate a lot of death, dying, fighting, killing and other such doom and gloom. While this isn't exactly different for the Debbie Downer that is the zombocalypse — every party has a pooper, as they say — it certainly seems to suggest war is imminent. And, let's be real, we're all ready to see Rick get savage AF again.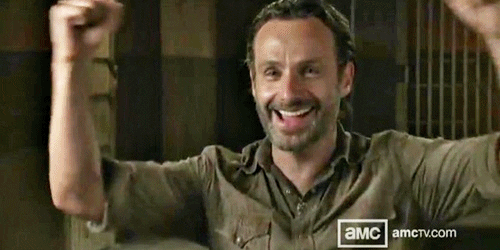 I guess we'll have to wait until The Walking Dead returns on Feb. 12 to see whether or not this lunatic soup of teaser photos actually amounts to something or if AMC hired the salty social media manager from Wendy's to gaslight the world.
In the meantime, have fun wracking your brain over these beauties:
Before you go, check out our slideshow below.