Barring the practical impossibility you've been living under a rock for the last decade, you likely know the name Ronda Rousey well by now. Considered by several experts to be the most dominant athlete in sports today, Rousey has captured the imagination of the nation with her winning combination of talent, confidence and charm.
More: Ronda Rousey is appalled at her recent Photoshopped pic (PHOTO)
Rousey exemplifies that strong is beautiful, sending a powerful message to young girls and women the world over. And while you may think you've got this powerhouse personality pegged, here are a few fun facts you probably didn't know about Rousey.
1. She gets it from her mama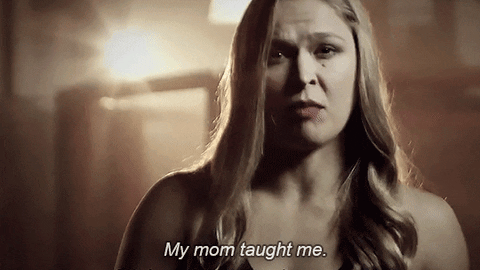 No, really — Rousey's mother is Dr. AnnMaria DeMars. You may have heard of DeMars in the media since she is often outspoken about her daughter's opponents and even coach. However, what you may not realize is that DeMars is a seventh-degree black belt in judo and the first American to ever win a world championship in judo (which DeMars did in 1984). She is the reason Rousey became a judoka, which would later lead to her interest in mixed martial arts.
2. She has been a fighter from the start
And when we say "start," we mean the very beginning. Although Rousey is a very articulate woman today, no one knew whether or not she would ever even speak a coherent sentence in her first six years of life. Doctors speculated that her inability to form intelligible conversation could be a sign of brain damage from early trauma — Rousey was born with her umbilical cord wrapped around her neck.
3. Ronda Rousey isn't her only alias
You'll definitely hear Rousey referred to by her professional name, Ronda Rousey, on a regular basis. But there are a few other monikers Rousey is called with routine frequency too. During an appearance on Conan on TBS, the fighter explained that her nickname "The Arm Collector" stemmed from the fact she had won all eight of her first professional MMA fights in the first round by way of submission via armbar. As for Rousey's other popular nickname, "Rowdy" — the one also used by her friends — it was actually given to her by iconic pro wrestler "Rowdy" Roddy Piper prior to his passing.
4. She just became the new spokesperson for Pantene
In an effort to help further the cultural narrative surrounding strong women, Pantene just named Rousey their new brand ambassador, to tell the world, "Don't hate me because I'm strong. Strong is beautiful." And if we're really being honest, we couldn't love the dichotomous pairing more. Said Rousey of the collaboration, "I'm fully aware that I might not be the first person people think of to collaborate with a beauty brand. I've been called 'Miss Man' and 'savage' because of my physique, but to me, strength isn't only about having muscles. It's about having heart and finding inner confidence, so I'm honored that Pantene asked me to be part of their new campaign that encourages women to break gender barriers, break the glass ceiling and never settle." Can we get an amen?
You can check out some of the Ronda Rousey and Pantene videos here.
5. She's a gamer (and she gets that from her mama too)
Given that Rousey's mom, DeMars, is the president and CEO of tech company 7 Generation Games, it's no wonder Rousey developed an affinity for gaming early in life. She has often spoken about her gamer proclivities, and recently divulged all of her favorites in a Reddit AMA thread. Curious? Well, Rousey's a big fan of Pokémon (the character Mew is her jam), World of Warcraft, Taichi Panda and Mortal Kombat.
More: Ronda Rousey shares how her UFC loss emotionally scarred her
6. She's an Olympian
Most of us know Rousey as the MMA champion, but she was a pretty big deal in the world of sports prior to being the first female fighter to sign with the UFC. At 17, as a competitor in the 2004 Olympic Games in Athens, she became the youngest Olympic judoka. At 19, she won bronze at the Junior World Championships, making her the first U.S. athlete to win two Junior World medals. And most notably, perhaps, she snagged a bronze medal at the 2008 Olympic Games in Beijing, becoming the first American to win an Olympic medal in women's judo since it became an Olympic sport.
7. She called her car home for a while
Although Rousey is now arguably the most recognizable MMA fighter in the world, the road to success wasn't a straight shot. In fact, the road itself became Rousey's home following her return from the 2008 Olympic Games in Beijing. Despite working multiple jobs, Rousey couldn't afford to pay rent on an apartment. So she did what she always does — she adapted, living out of her little 2005 Honda Accord LX. Fun fact: She sold the car, with her autograph on the dash and some of her belongings still rattling around in it, for a cool $21,300 on eBay in 2015.
8. Her Hollywood star is on the rise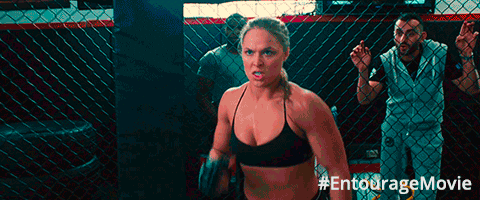 You may remember when screenplay writer and star Sylvester Stallone announced back in 2013 that Rousey would have a role in Expendables 3. Since then, Rousey has also starred in Furious 7 and Entourage, and she is set to star in the Road House remake, Mile 22, Do Nothing Bitches and The Athena Project.
More: Ronda Rousey responds to her epic UFC defeat by Holly Holm
Want a chance to see Ronda Rousey live? Well, lucky for you, Pantene is awarding one lucky winner with a pair of tickets to a UFC fight in Las Vegas. Bonus? You could also win a one-year supply of Pantene products. Enter the sweepstakes below for your chance to win!
This post was sponsored by Pantene.