Tonight's the night. We finally get to watch the Victoria's Secret Angels walk the stage at 10/9c tonight on CBS.
Now, we've seen plenty of headlines leading up to this event — from Gigi Hadid's wardrobe malfunction to her sister Bella's encounter with ex-boyfriend The Weeknd (who happens to be performing tonight alongside Bruno Mars and Lady Gaga). So why not round them all up? Because having a list of must-see moments is the best way to watch a runway show.
Alright, ready to play a little game of I Spy? Let's do this.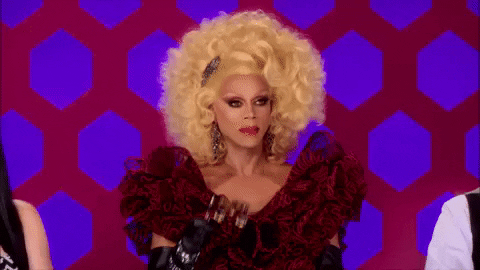 Gigi Hadid's wardrobe malfunction
While she's walking down the runway with black wings strapped to her back, one of Gigi's bra straps snaps. No, she doesn't expose herself, so we're pretty sure you'll see it during the show. Watch closely!
Bella Hadid & The Weeknd cross paths
Hadid and The Weeknd haven't been exes for very long — they broke up in November. But the fact that they're freshly split made their inevitable onstage encounter that much more anticipated. Many expected an awkward vibe, but they kept it cool and professional. Good job, guys.
Irina Shayk's baby belly
Last week when all the pics from the show were released, it was heavily reported that Irina Shayk was not only pregnant, but also walked the show during her second trimester. She seemed to be strategically covered up, wearing jackets and cover-ups that hid her belly. But the story doesn't end there. Apparently no one backstage knew she was pregnant.
Lady Gaga's off note?
As soon as clips surfaced of Lady Gaga's VSFS performance, haters came out in full force claiming she sounded off-key and looked awkward walking the catwalk. Sorry not sorry, but y'all are crazy. Sure, singing "A Million Reasons" during a fashion show seems like an odd choice, but she still sounded amazing. Haters be gone.
The $3M Fantasy bra
Jasmine Tookes had the task of the night: walk down a runway wearing possibly the most expensive bra ever. (OK, I looked into it as soon as I typed it and found out the most expensive bra was valued at $15M and was modeled by Gisele Bündchen in 2000. Let's move along now.). Designed by Eddie Borgo, he spent over 700 hours hand-crafting the bra with white diamonds, emeralds and "about 9,000 gemstones."
Cultural appropriation?
During a segment called "The Road Ahead," the Angels can be seen wearing a kimono, Asian-inspired boots and a strange Chinese dragon wrapped around Elsa Hosk's body — among other "questionable" items of clothing. According to Mic, the segment was meant to celebrate multiculturalism. However, some — specifically Cosmo — found the lingerie during the show to be "racist." Cosmo's executive lifestyle editor Helin Jung wrote: "The Orientalism on display here doesn't show an understanding or an attempt at dialogue. It doesn't close any gaps. What condescension, for Victoria's Secret to think that by wrapping a model in a dragon, it could connect directly with a new consumer in China." Cosmo deleted the article shortly after publication.
What are you most looking forward to seeing during the Victoria's Secret Fashion Show tonight? Let us know in the comments.
Before you go, check out our slideshow below.