Jessa Seewald's newest Instagram video is either beautiful or seriously cringe-inducing, depending on who you are.
More: Jim Bob & Michelle Duggar "couldn't be happier" about their 20th kid
Seewald posted a video this week of her view of her growing baby belly, and you can actually see her kid kicking out from inside her. I know, I know, beautiful new life and all that. But this seriously gives me the heebie-jeebies. And according to the very unscientific poll I conducted via Facebook chat, about half of people feel the same way I do, and the other half think this is the most amazing thing that's ever happened to the internet. Check it out and judge for yourself.

More: Joy Duggar overshadowed Jinger and Jeremy's wedding with courting announcement
"Just as much awe and wonder on my part as I had with Baby #1! It's amazing to see #BabySeewald2 kicking and moving around. So thankful for this precious new life!" Seewald wrote in the video's caption, along with (what else?) some heart eyes emojis. "I'm always wanting Ben to see baby's movements, but from his perspective they're not always super visible. I guess my viewpoint is simply the best! So I captured this for him and he was like 'Whoaaa… I see it!'"
Uh, duh, he saw it. That thing is just short of this: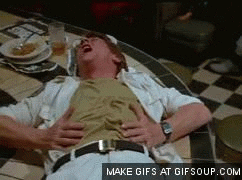 Luckily for the people who follow Seewald on Instagram, they all seem to be on the side of the fence that isn't grossed out by her vid. The people commenting are seriously here for it.
"That's great so sweet of you to share that. Our daughter has sent us this very same view with her babies to us. It would make me cry every time. God is so good. Love it. Thanks," one wrote. Another added, "That was my favorite part of pregnancy, watching my belly move all over the place!"
More: Jill Dillard can't post a photo without starting pregnancy rumors
Power to 'em, but I'm gonna stay clear of that video — at least until after lunch.
Before you go, check out our slideshow below.