Never did we ever think we'd utter these words, but Lucifer has got to go on Supernatural. In Season 12, he has reached a whole new level of irritating. Not to mention, his storyline is the same old thing, and well, we're just plain sick of it.
More: Supernatural's Dean making a deal with Billie is so going to end badly
Back in Season 5 when Lucifer made his grand entrance, it was a glorious thing, and mainly thanks to Mark Pellegrino. He played the role beautifully. Actually, he may have played it too well, because now no matter who takes on Lucifer, they just don't do the role justice.
There is only one Lucifer on Supernatural and that is in the form of Pellegrino. However, Misha Collins did a magnificent job as Casifer in Season 11, so we take that back. The only other person who has proven a successful Lucifer is Collins, aka Castiel.
When it was announced that Rick Springfield would be playing Lucifer in Season 12, it was a bit disconcerting. Fans of the series see Pellegrino as the devil, so it's hard to equate any other face with the fallen angel.
Obviously, Pellegrino probably has a busy schedule and he can't play Lucifer all the time. That is the beauty of the role. Lucifer takes on the form of whatever vessel he possesses, which certainly leaves the series open to casting whomever they want. It would just be nice if Pellegrino was a permanent cast member. Remember when he popped up for part of Season 11? It was one of the best episodes ever.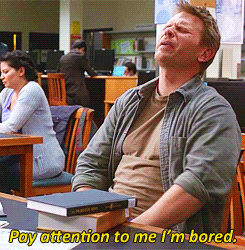 More: Yeah, Supernatural's new villain Mr. Ketch is the absolute worst
Granted, Springfield played Lucifer well. He definitely brought the character's evil side out and made us despise him, but it just wasn't the same as Pellegrino. He had a lot to live up to, and that couldn't have been easy for Springfield. Overall, he surely deserves a round of applause for what he did bring to the table.
In Thursday's episode, Springfield's time as the iconic character came to an end when Lucifer fled Vince Vincente's (aka Springfield's) body, which means someone else will be taking on Lucifer until Sam and Dean can figure out a way to get rid of him. Really? Why? Here is where we start the official campaign for "Reinstate Mark Pellegrino as Lucifer on Supernatural."
Now that God's former favorite is set on "smashing daddy's broken toys," all while having fun, who better to put that into action than Pellegrino? That's right, Lucifer doesn't even have a plan anymore thanks to God once again "abandoning him" and riding off into the sunset with "Auntie Amara." As Lucifer declared at the end of this week's episode, he is moving "onwards and upwards." That sounds ominous for Sam, Dean, Crowley and Castiel.
Who knows what Lucifer will end up doing, but seeing as next Thursday's episode is the midseason finale, maybe they will finally manage to put him back in the cage. Here's hoping that happens, unless Pellegrino manages to come back somehow and take on the role once again — keep those fingers crossed.
Supernatural airs Thursdays at 9/8c on The CW.
More: Supernatural's Hitler episode brought up so many feelings about Donald Trump
Before you go, check out our slideshow below.