If you've been in a holiday-induced social media hibernation, you might have missed out on the news that Britney Spears probably has a disgustingly hot new boyfriend — you know, just one of the models from her super-sexy "Slumber Party" video.
More: Britney Spears gets a huge surprise while performing at Jingle Ball
All through December, the gossip mill was churning out reports that Spears and Sam Asghari were getting to know each other — possibly in the biblical sense. The rumors actually date back to late November, when Asghari took to Instagram to share a photo of himself and Spears enjoying a meal at a restaurant. For one reason or another, Asghari deleted the post not long after it went up, but not before fans had a chance to screen-grab it and spark relationship rumors.
So, who is this guy that could be more than friends with Spears?
1. They are pretty much confirmed at this point
While neither Asghari nor Spears have come out and straight-up said that they are an exclusive couple, they spent Christmas and New Year's together — both confirmed on social media. If that doesn't scream "we're getting serious," we don't know what does.
Asghari also recently posted a photo of two cuddling lions with the caption "It's not complicated," which obviously points to him being in a happy relationship. Oh, did we mention that his fans report in the comment section of the pic that he is a Leo? Not very subtle.
2. Good looks run in his family
Not only is Asghari smoking hot, but his sister, Farzaneh Asghari, ain't so hard on the eyes either. Farzaneh is also a registered nurse and microbiologist according to her Instagram bio.
3. He's the new face of Under Armour
Asghari announced in the final moments of 2016 that he's representing the super-popular athletic apparel line for their winter campaign.
4. Spears' music video is not his first
Sam Asghari is insanely good-looking, so it's not surprising that he has been the star of more than one music video. Aside from "Slumber Party," he's also been in Fifth Harmony's "Work From Home."
5. He's a personal trainer
This may seem obvious, but Asghari is also a personal trainer who reportedly works as a BMG personal trainer at Royal Personal Training.
6. He wanted to be a police officer
Before Asghari became a model, he wanted to be a police officer. Speaking during an interview with MSI College, he revealed that he changed his life goal to work in law enforcement. He told the publication, "I understood that my passion was elsewhere. I was way more passionate about fitness modeling and acting."
More: Britney Spears and Ariana Grande started a huge, verbally violent Twitter war
7. He was super-shy
He may be able to walk around topless now, but Asghari was once a really shy guy. As he told the publication, "I was a very shy person growing up, even all through high school. After being in the [modeling] industry for such a short amount of time, I've gained massive confidence."
Another thing that inspired his confidence? Asghari went through a major lifestyle change that led him on the path to better health, as evidenced in the photo above.
8. He likes guns
And we're not even talking about the gun show his arms can do — a glance at Asghari's Instagram account seems to suggest he likes real guns.
More: Britney Spears threatening to sue over bombshell report about her behavior
9. He's a kitten lover
Not that you needed another reason to think that Asghari is basically the perfect human, but he also happens to like kittens.
Do you think Britney Spears and Sam Asghari would make a good couple? Share your thoughts with us in the comments below.
Before you go, check out our slideshow below.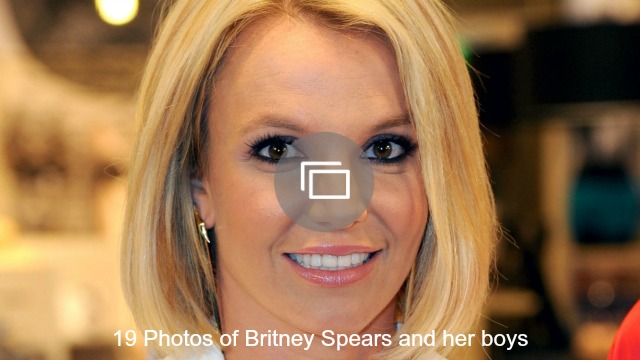 Originally published November 2016. Updated January 2017.