Well, the Sheldon Cooper spinoff is officially happening — and no, this isn't some kind of "bazinga!" On Monday, The Hollywood Reporter revealed CBS has ordered The Big Bang Theory prequel straight to series for the 2017 – '18 season. It is also going to be called Young Sheldon.
Last November, it was announced that TBBT was looking to expand Sheldon's story. At the time, it was reported by Variety that the spinoff would focus on a young Sheldon and was being developed at CBS with help from Warner Bros.
More: Why Sheldon knocks three times on The Big Bang Theory is actually heartbreaking
The project is set to follow a 9-year-old Sheldon growing up in East Texas and going to high school. Obviously, since it will be set in the past with a young Sheldon, Jim Parsons won't be playing the character, which has earned him a Golden Globe and four Emmys, but he is set as an executive producer and will even narrate the series as adult Sheldon. TBBT's co-creator Chuck Lorre and current showrunner Steve Molaro are all tied to the potential spinoff as well. Jon Favreau is slated to direct and executive produce the pilot.
As for who will play young Sheldon, Deadline reported Big Little Lies actor Iain Armitage snagged the role. Deadline also reported the comedy has cast Mary Cooper, Sheldon's mother. In a genius move, Zoe Perry will take on the role. What makes this a genius move is that Perry's mother, Laurie Metcalfe, plays Sheldon's mom on TBBT. Really, the part couldn't have gone to someone more perfect.
Per THR, Lance Barber (It's Always Sunny in Philadelphia), Raegan Revord (Modern Family) and Montana Jordan are also part of the cast. According to IMDb, Revord will play the younger version of Sheldon's twin sister Missy, Barber will play Sheldon's father George and Jordan will play Sheldon's older brother George Jr.
More: The Big Bang Theory Cast Took Pay Cuts for the Greater Good
This news sounds kind of exciting at first, because who doesn't want more Big Bang and Sheldon Cooper? If you're a fan of neither, then you don't, but many dedicated viewers would probably welcome more of both with open arms. That said, the prequel may not actually be the best idea, and this is coming from an avid watcher and lover of TBBT and Sheldon Cooper.
While it may sound like a great idea, here's why a prequel about a young Sheldon Cooper shouldn't happen.
1. It's not Jim Parsons
Let's face it, there is no Sheldon Cooper without Jim Parsons. Can you imagine anyone else portraying him? Yeah, he'll be narrating it, but that's not the same thing. Someone beyond magnificent (like Parsons) would need to be cast to do the character justice — and Armitage may be able to do just that. Yes, a young Sheldon is very different from the Sheldon viewers now know, but it's almost cringe-worthy to think of watching someone else playing him. If it's going to be worrisome or stressful to watch another actor bring Sheldon Cooper to life, then the prequel may be best left on the cutting room floor.
2. Leave well enough alone
The Big Bang Theory is already a huge success and one of the funniest comedies on television today. Why does there need to be a spinoff? Remember what happened when Matt LeBlanc starred in Joey after Friends came to an end? One word: disaster. Yes, Parsons won't be playing this particular Sheldon, but it might be best to leave well enough alone and not mess with something that is surely not broken.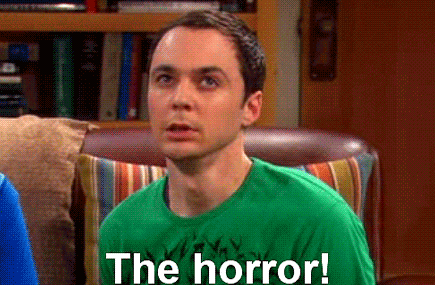 More: Bernadette is truly the unsung feminist hero of The Big Bang Theory
3. More lack of diversity
When CBS announced its 2016 fall schedule, one thing stood out, and that is that every one of the six new series' picked up star a leading heterosexual white man, save for Katherine Heigl's Doubt, which has already been canceled. Although Parsons is openly gay, his character on TBBT isn't, so the lack of diversity is mind-boggling. After receiving much criticism at the 2016 Television Critics' Association press tour in August over it, CBS president Glenn Geller said, "We're very mindful at CBS about the importance of diversity and inclusion, and I'm glad we're having this conversation first. We need to do better and we know it. That's really it. We need to do better."
Well, potentially putting another comedy on CBS featuring a straight male character certainly doesn't seem like the network is doing better.
4. All good things must come to an end
So far, TBBT's fate is unknown, despite it looking like a renewal for two more seasons is likely, especially since executive producer Bill Prady took to Facebook in February and said the deal was "actually done." Though, that not has officially been confirmed by CBS.
As TVLine reported last August, the comedy is only renewed through its current 10th season, but there are currently negotiations for more seasons and new contracts for the cast. "We are very confident that everyone involved wants more Big Bang past year 10," Geller told reporters at the TCA in August. "I know Warner Bros. will make those deals… We'll put it on for as long as everyone wants Big Bang on the air. I hope it lasts forever."
It seems more likely than not that the series will come to an end soon, so when that happens, shouldn't it go out on a high note? Why bring on a prequel spinoff that may not live up to the successes of TBBT and be a total flop? It may be hard to say goodbye to the series as a whole and its characters, but sometimes all good things must come to an end.
5. It's already receiving bad buzz
If some people are against it, is it really a good idea? It seems like the Big Bang world may lose a lot of its viewers, so why not just close this chapter before its too late?
The Big Bang Theory airs Thursdays at 8/7c on CBS.
More: Does anyone else wish Penny's brother were a recurring character on TBBT?
Before you go, check out our slideshow below.