Let's just be honest here: We love just about everything Samantha Bee does.
More: Bernie or Busters on Full Frontal are making me ashamed to be a liberal
Not only is she hilarious and super-smart, but Bee crashes through glass ceilings left and right. She made history by being the first woman to host a late-night satirical news program in a world dominated by Stephen Colbert and Jon Stewart, who hosted The Daily Show, where Bee actually got her start. And now, she's going to be the first such female host to interview President Barack Obama — or any president, for that matter.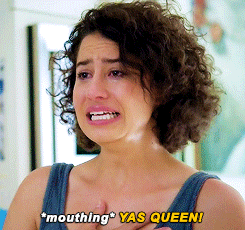 Obama is scheduled to sit down with Bee on Halloween night on her show, Full Frontal.
More: Yes, Cleveland police union's head said Samantha Bee would be a good hooker
TBS announced the interview Wednesday, writing, "The conversation with America's male president, who wore a flattering wool suit paired with sensible leather flats, follows Samantha's October 24th interviews with Norwegian Prime Minister Erna Solberg, Chilean President Michelle Bachelet, Marshallese President Hilda Heine, Croatian President Kolinda Grabar-Kitarovic, along with former Secretary of State Madeleine Albright."
It continues, "It covers a range of topics, from the 44th president's legacy to the challenges the new Commander in Chief will face when she takes office in January. (Yes, "she." Spoiler alert.)"
BRB, setting up the DVR right now.
Considering how supportive Bee has been of Democratic presidential nominee Hillary Clinton's bid to be the first woman to lead the country, we can only hope she'll be breaking another glass ceiling: First interview with a female American president.
More: Full Frontal just showed us the anti-BLM crowd can actually be reasoned with
Will you watch President Obama on Full Frontal Monday night? Let us know in the comments below.