Andy Cohen is probably shaking his head today over what could have been the perfect Bravo reality show — former Real Housewives of New York City star Heather Thomson rehabilitating Monica Lewinsky's image. In a recent interview with The Tomorrow Show, Thomson shared her idea with host Keven Undergaro.
More: Monica Lewinsky reveals suicidal thoughts over Clinton affair
"Monica Lewinsky had come out with her Vanity Fair [article in 2014] and I was on Access Hollywood… Billy [Bush] was like, She can't get a job is what I'm hearing,'" Thomson said. "There's no way I believe that for a hot second."
As the founder of the shape-wear undergarment company, Yummie by Heather Thomson, she decided to spring an idea into action when it came to Lewinsky.
"Well, I'll hire her," she explained in the interview. "I have a company, I have a multimillion dollar company. I'll give her a job."
More: Bethenny Frankel's topless movie role from the '90s still haunts her
That's when Thomson went on a quest to locate Lewinsky to help her get past the Bill Clinton scandal. She had LuAnn de Lesseps connect her with Dorinda Medley before she was a cast member on RHONY.
"Dorinda jetted me in my footsteps and said she is not looking for a job," explained Thomson. "[She said,] 'Trust me, she's fine. You have a legitimate company, and you're coming out of the goodness of your heart to lift someone up.' "
More: RHONY has reportedly signed on a new star & things just got really exciting
You know Cohen is foaming at the mouth to still make this job offer happen. It would be a ratings bonanza for Bravo and Thomson would be "holla-ing" all over New York for getting Lewinsky to join her team.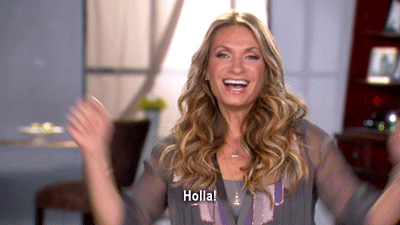 Alas, neither the show nor the job will ever happen. Even Thomson has given up on the idea.
"It sounded like a good idea for awhile, but then I moved on," she said. "But I was gonna give her a job."
Before you go, check out our slideshow below.