Watch Tom Hanks deliver heartfelt love letter to Ron Howard
Oct 21, 2016 at 11:14 a.m. ET
Everyone loves Tom Hanks — how could you not? He's humble, charming, hilarious and a fan of the photobomb. And you'll be pleased to learn that his golden-boy reputation isn't just a facade — Hanks lived up to every expectation when I met him in Florence, Italy, for the Inferno press junket and movie premiere. Yes, yes... I met him. In the flesh. It Italy. Don't be jelly. And later that night, I dreamed he was my husband. Swoon.
More: Tom Hanks loves his fans and does awesome shit for them all the time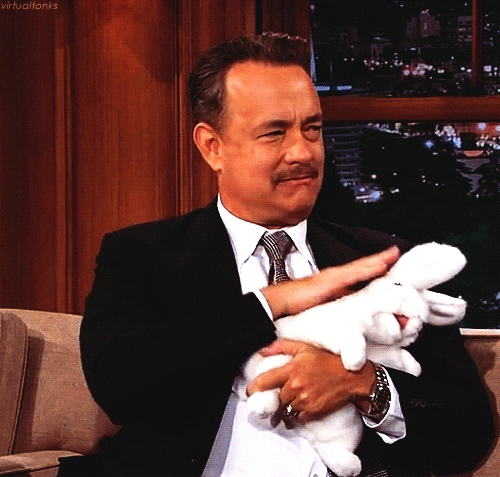 While Hanks may not be having any dreams or fantasies about me, he does have loving feelings toward director and longtime friend Ron Howard... or so we thought.
The two first worked together in 1984 (that's a whopping 34 years of friendship, people) on the movie Splash — it also happened to be Hanks' debut on the big screen. Since then, they've worked on a number of projects, including Apollo 13, From the Earth to the Moon, The 'Burbs and other Dan Brown films. Obviously, they must enjoy working together or else they wouldn't keep doing it, right? Wrong. Hanks wants to put a stop to their working relationship... immediately.
More: Tom Hanks' latest health update is really starting to worry us
As Howard gushed about Hanks in one room — even asking him to be his Valentine four months in advance (we imagine Hanks is in high demand) — Hanks begged Howard to stop calling him (in the most loving way, of course). It seems pretty clear these two are in different places in their relationship.
Ah, the sweet sorrow of unrequited love.
Watch for yourself as Hanks (with Felicity Jones' help) and Howard write love letters to one another proclaiming their love – or in Hanks' case, exhaustion.
More: Filming Inferno was a painful experience for Tom Hanks, literally