We have so, so many questions about Mary J. Blige's upcoming interview with Hillary Clinton. The first one: What the hell did we just watch?
More: We knew it — the Will & Grace 'reunion' isn't what it appeared to be
Apple Music tweeted a teaser video for Blige's sit-down with the Democratic nominee for president, writing that it was "like you've never seen them before." That's an understatement.
The one-minute-long promo is basically just Blige singing to Clinton about police brutality. Yes, really.
The song begins, "If an officer stops you / Always be polite / And never, ever run away / Promise mama You'll keep your hands in sight."
More: Hollywood exposed Donald Trump's lies in the presidential debate all. night. long.
As Blige is singing, the camera cuts to Clinton, who looks like this: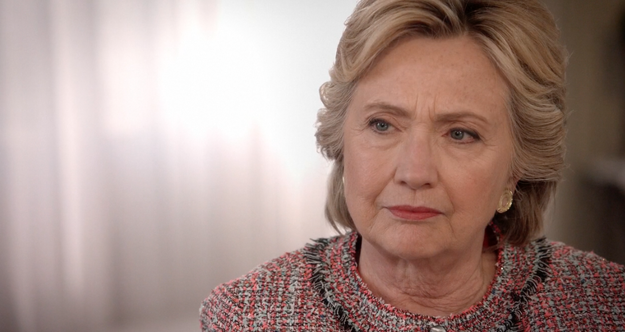 Blige keeps singing, and toward the end of the song, leans over and dramatically grabs Clinton's hand. Somehow, Clinton was able to keep a straight face through all of this, which should pretty much just win her the election immediately.
While that video left us with way more questions than answers, Twitter just isn't here for it.
The No. 1 thing we need to know right now: Is this whole interview going to be conducted in song? Will Hills be singing her responses? Is this the future of election interviews? If it is, we might get a little more politically involved.
More: Kids react to the presidential debate between Hillary Clinton and Donald Trump
Do you plan to watch Mary J. Blige's interview with Hillary Clinton?
Before you go, check out our slideshow below.