On Monday, Vanderpump Rules fans were given some exciting news, when not only a premiere date for Season 5 was released (Monday, Nov. 7), but a brand-new trailer was unveiled. After what seems like way too long of a hiatus, it's good to know the drama-filled Bravo series' return date is right around the corner.
More: Vanderpump Rules' Schwartz and Sandoval make a permanently bad decision
Based on the trailer, there are going to be some crazy moments, which is expected, right? When there aren't fights, gossip and rumors spreading like wildfire, there are also actually some happy moments. Yes, Tom Schwartz and Katie Maloney's wedding is featured. Plus, it appears that Tom Schwartz and Tom Sandoval 'shippers have a lot to look forward to.
There are many Schwartz and Sandoval broments in the Season 5 trailer, proving these two really do make the best of friends and will forever be connected at the hip. To celebrate their bromance, first watch the trailer below, and then scroll through the following list to see a few of the times Schwartz and Sandoval's friendship was unlike anything you've ever seen.
You ready for even more goodness from the Toms? Good, let's get to it.
1. When they got tattoos
Remember when Sandoval and Schwartz got tattoos in Las Vegas? Schwartz's wasn't horrible, but the same can't be said for Sandoval's bacon-looking tat.
2. When they cried together
As you can see above, Season 5 will feature many Sandoval tears. Based on the trailer, it sure looks like Sandoval is crying for Schwartz. He's just an emotional guy.
3. When Sandoval defended Schwartz
Don't ever put down Schwartz because you'll receive the wrath of Sandoval. That's what happened when Jax Taylor argued with Schwartz. Sandoval wasn't having any of it and defended his BFF.
4. When Sandoval couldn't help but be proud
This is another moment from the Season 5 trailer. Could Sandoval be happier for his pal getting married? Also, it sure looks like he's crying — again.
5. When they kissed
Like in the Season 5 trailer, Sandoval and Schwartz have kissed on multiple occasions. They're just really close, OK?
6. When they did "business"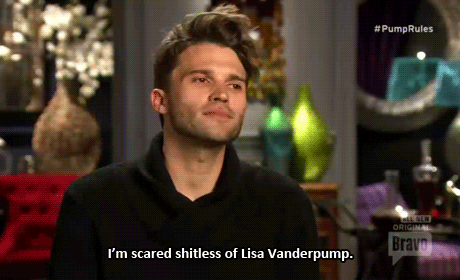 In one of their most embarrassing moments on Vanderpump Rules, Sandoval and Schwartz approached Lisa Vanderpump to become part of her LVP Sangria line. Their proposal did not go well.
More: 8 details about Vanderpump Rules' Katie Maloney & Tom Schwartz's wedding
7. When they tried to do "business" again
Again, they just don't know how to do business, especially when it comes to working with Vanderpump. It sure makes for one entertaining moment, though.
8. When they channeled the '70s
This is how they showed up to Scheana Shay's 30th birthday party. When there is a theme, they commit. FYI, they even wore roller-skates.
9. When they got beautified
Sandoval and Schwartz's hair is very important to them, and they aren't afraid to admit it.
10. When Sandoval impersonated Schwartz
They know each other so well, impersonations just come naturally. It's kind of scary how much Sandoval sounds like Schwartz.
11. When they went to Vegas
Their Las Vegas trips never disappoint and it's also a great way for Sandoval and Schwartz's bond to grow. For example, they become very comfortable with nudity and rubbing their asses on one another, because what else says friendship?
12. When they messed with one another
Only good friends are allowed to mess with each other, especially when Schwartz is scared of needles and Sandoval can't help but use that to his advantage.
13. When this happened
This is from the Season 5 trailer and just further proof that Schwartz and Sandoval are very comfortable around each other.
14. When they snuggled
They're basically the Ross Geller and Joey Tribbiani of Vanderpump Rules.
Who else can't wait to see what Schwartz and Sandoval get up to in Season 5 when it returns Monday, Nov. 7 at 9/8c on Bravo? Me too. Me too.
More: Tom Schwartz has only been married for a day & he already looks exhausted
Before you go, check out our slideshow below.