Jacqueline Laurita can't help but get into a heated argument on Real Housewives of New Jersey, huh? With each new episode, she manages to find herself fighting with someone. As much as I like Jacqueline and usually side with her, the fact that she doesn't know when to leave well enough alone is beyond frustrating.
More: 9 times the Real Housewives husbands were super-sexist
Yes, if someone is talking badly about me, threatening me or attacking me in any way whatsoever, I'd be speaking up, too. That's who Jacqueline is, and I admire her for that. She stands up for herself and will not back down from anyone. However, when it comes to certain situations that don't really involve her or things that don't need to be discussed, that's when I find fault with Jacqueline.
For example, while shopping at Posche (yes, Kim DePaola's store) with Siggy Flicker, Jacqueline just had to talk with Kim D. about Melissa Gorga and Teresa Giudice's newfound friendship. Like Kim, Jacqueline didn't seem convinced that Melissa and Teresa are really on the same page now. By putting that out there and briefly discussing it, Jacqueline is making waves that will probably come back to bite her. It might even end her friendships with both Teresa and Melissa.
The drama continued when she had to bring up the sit-down Teresa and Joe Gorga had with Rosie Pierri and Kathy Wakile. I get that Jacqueline is friends with Kathy and Rosie and wants the best for them, but how many more times does Teresa have to make it clear that she is done with them (for now, at least)? Whether or not you agree with Teresa "cutting the cancer out," this is what she wants, so let's all move on. Yes, I'm talking to you, Jacqueline. By contributing to the conversation on the bus ride to Vermont, she started another unnecessary argument, which led to even more tension. Jacqueline, just drop it.
More: RHONJ's Joe Gorga and his sexism really need to go away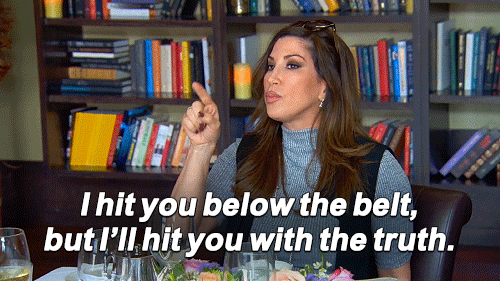 The drama continued in Vermont thanks to Jacqueline and Teresa's friend Robyn getting into it. Robyn expressed to Jacqueline why she finds issue with her, which then led to a major fight. I mean, Robyn even threatened Jacqueline. By no means am I taking Robyn's side here, because violence is never the answer even if it's only a threat, but there was no reason for Jacqueline to call Robyn one of Teresa's "soldiers."
Sometimes it's best to keep your thoughts and opinions to yourself — especially when you know it's going to cause problems. I understand that Jacqueline felt like she needed to defend herself against Robyn's reasons for disliking her, but Jacqueline also stirred the pot a bit, too. I mean, she even literally sat on Robyn, which was totally uncalled for.
More: RHONJ's Teresa Giudice will probably drive Melissa & Jacqueline apart
Like Melissa pointed out in tonight's episode, Jacqueline gets herself so worked up over nothing. When she gets so upset, things get blown out of proportion. In a previous episode, Melissa even said that "Jacqueline is her own worst enemy," and she's not completely wrong. If she doesn't start choosing her words wisely, Jacqueline may end up alienating herself. At this point in time, it seems that Siggy and Dolores Catania have her back, but that may not always be the case.
It's time for Jacqueline to not comment on every little thing and instigate a situation that doesn't need to be instigated. Maybe after all these years, Jacqueline is sick of the crap involving Teresa, which is why she can't help but open her mouth, but it's time for her to take a step back. You know how they say it's best to think about something before saying it out loud? That's something Jacqueline might want to take to heart.
Based on the promo for next Sunday's episode, it doesn't seem like that will happen. Not only does it look like Jacqueline calls Teresa a criminal, but she gets in Melissa's face and calls her out for all of her "nose jobs." Basically, things are going to get much worse before they get better.
Real Housewives of New Jersey airs Sundays at 8/7c on Bravo.
More: RHONJ's Dina & Caroline Manzo's feud started in 2010 and it's still going
Before you go, check out our slideshow below.