Here she comes… Miss America 2017! Oh, wait, what's that? You didn't even realize the pageant was on this weekend? Me either, you guys, me either — and I'm an entertainment writer. So, first things first: ICYMI, Miss Arkansas Savvy Shields was named this year's winner on Sunday, Sept. 11, in Atlantic City, New Jersey.
A 21-year-old art major, Shields jazz danced her way to the win, beating out Miss South Carolina's Rachel Wyatt in the final moments to secure the coveted crown.
And although there were no hiccups as major as the wrong winner being announced (*cough, Steve Harvey, cough*), there were more than a few moments that people can't seem to stop talking about. On the bright side, this idle chatter is particularly helpful for people like you and me, who missed the actual broadcast.
More: What made Bess Myerson different than any other Miss America
Judging by those highly buzzed-about moments I've gleaned from the good people of the interwebz, here are the big highlights and most shocking moments of the Miss America 2017 pageant.
1. When Miss California tumbled for the talent competition
Any other year, this may just have been another talent in the mixed bag of skills demonstrated by the Miss America contestants. However, this year Olympic gymnast-slash-superstar Gabby Douglas was a judge. Can you imagine tumbling in front of her? But Douglas, who was as charming as ever, was entirely gracious after watching the no-doubt nervous contestant handspring across the stage.
2. When Mark Cuban was really into the competition
Let's be real — one of the most enjoyable parts of the Miss America pageant is watching the judges' reaction faces. And although Ciara's expressions were arguably the most consistently entertaining, Mark Cuban gets dibs on most hilarious (and/or creepy) reaction of the night for licking his lips following Miss Massachusetts' swimsuit strut. Was it coincidental? You be the judge.
3. That time Miss South Carolina failed to see the irony
Miss South Carolina was right, of course, when she said that women don't have to wear revealing clothing to be beautiful. But the irony of those words coming from the mouth of a beauty pageant contestant in a dress that plunges "vertiginousl crotch-ward," as Jennifer Weiner put it, was not lost on the Twitterverse.
4. But it was OK, because she mic-dropped on immigration issues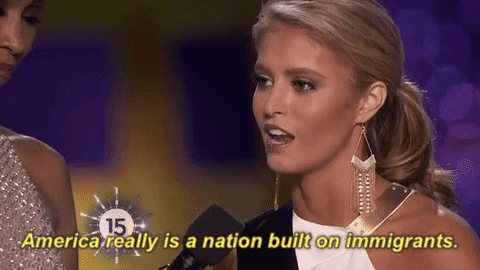 Being a South Carolina girl (holla!), it was nice to see that my state's representative redeemed herself when former Miss America Sharlene Wells Hawkes asked her about our nation's immigration issues. In a poignant moment, Wyatt revealed that her grandfather was part Japanese and that although some immigration reform could be warranted, "America really is a nation built on immigrants." Speak on it, girl.
5. The total Miss Congeniality moment the first-cut contestants had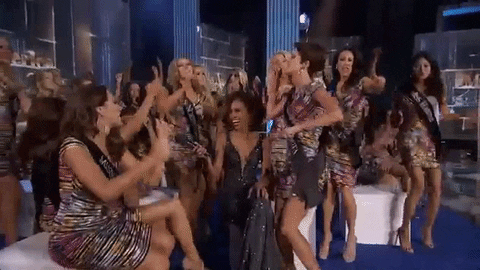 After an astounding 37 contestants were cut almost immediately, Miss Minnesota flipped the script by leading the ladies in a perky rendition of Shania Twain's "Man, I Feel Like a Woman." Of course, the song does start with, "Let's go, girls!" Like, really, we've got to go now.
6. When Chris Harrison mansplained the swimsuit portion of the evening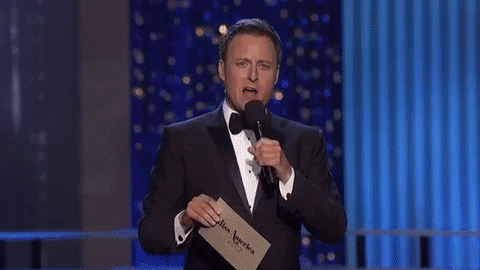 Before bringing out the contestants for the swimsuit portion of the competition, Chris Harrison tried to mansplain it as a celebration of "lifestyle and fitness" and not at all an outdated tradition that objectifies women. Mm-hmm. Don't quit your day job, Harrison.
More: Let's be real, Chris Harrison had a hand in all The Bachelorette rumors
7. Plus, the theory that Harrison was recruiting on the sly
I mean, it is a pretty genius ploy.
8. That baton twirling, tho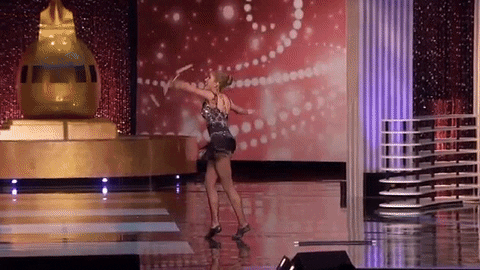 Somewhere in the space-time continuum, Miss Rhode Island Cheryl Frasier is pumping her flaming batons in wild approval of this routine from Miss America 2017's Miss Texas Caroline Carothers.
9. Miss Missouri's historic inclusion
She may not have made the final cut in the Miss America pageant, but as one Twitter user pointed out, Miss Missouri Erin O'Flaherty made history for being the first openly lesbian contestant to ever compete.
10. When Miss Washington invoked "All Lives Matter"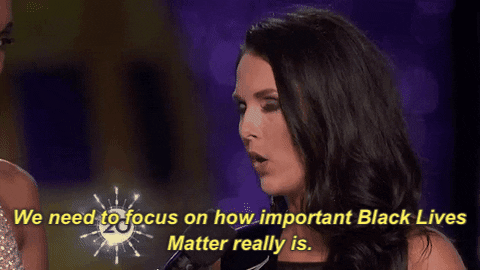 When asked whether she stood with 49ers quarterback Colin Kaepernick, Miss Washington Alicia Cooper said we need to focus on how important the Black Lives Matter movement is. Good point, right? Only then she added, "We need to realize that all lives matter in this situation," referencing the countercampaign that undermines the entire BLM movement. To wrap up her confusing response, Cooper said she doesn't support the fact that Kaepernick sat out but respects that he did.
11. The heavily political slant of the question round
From an outside perspective, it kinda looks like whoever put together the pageant proceedings this year was hitting the hot sauce. While much of the show was predictably… well, pageant-y, other parts were inexplicably political, with contestants being asked to give their take on presidential candidates in less time than it takes to put on mascara.
12. The way Miss New York handled her political probing
When actress Laura Marano asked Miss New York Camille Sims to give a 20-second opinion of Donald Trump, she probably wasn't expecting Sims to slay the answer the way she did. And we are here for it, Miss New York.
13. The fact that a contestant choreographed a ballet routine to theme music from Pirates of the Caribbean: The Curse of the Black Pearl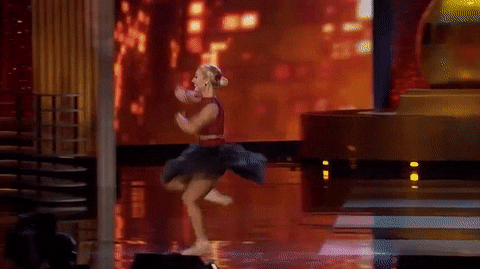 If she had to walk the proverbial plank, at least she did it in high (seas) style.
14. The tone-deaf 9/11 tribute
As the show was held on the 15th anniversary of 9/11, producers apparently thought it appropriate to have outgoing Miss America Betty Cantrell perform a rendition of Katy Perry's "Rise" and ask other former contestants to talk about how, in the wake of the terrorist attacks on 9/11, they decided the show must go on — it was, in their words, what they could do for their country.
More: Melissa Joan Hart makes a great point about the media's 9/11 coverage
What do you think? Did you tune in to this year's Miss America competition?
Before you go, check out our slideshow below.