If you didn't channel your inner Meryl Streep and Jennifer Lopez at the 2015 Oscars while watching Melissa Gorga take down Joe Gorga on Sunday's The Real Housewives of New Jersey, then you probably need Melissa to give you a stern talking to just like she did with her husband.
More: Joe Gorga's belittling of Melissa Gorga on RHONJ needs to stop, stat
One of the major story lines of RHONJ Season 7 has been Melissa going out on her own, starting a business, trying to make herself a success and watching her husband belittle her along the way. Yes, this is a big change for both of them and their family. Joe has been used to Melissa staying at home, cooking dinner and taking care of the kids. However, now that their kids are older and Melissa is ready to make a name for herself, Joe is having a hard time adjusting. Actually, he's been behaving in a sexist manner and being totally unsupportive of his wife.
It's beyond frustrating to see Joe disrespect Melissa and not support her at all in her dreams or with her boutique. The way he fawns over her and loves her deeply, you would think he'd be praising her, right? That's the opposite of what is happening.
For example, during Sunday's episode, he pulled Melissa aside and told her that he wasn't brought up to take care of the kids because he has to go to work. He then added that he needs his life. If that isn't bad enough, Joe had the nerve to say that what Melissa does is a "joke," that he brings in "cake" compared to the "crumbs" Melissa earns and nor does he want what she brings into the mix financially.
She acted exactly how I would've reacted if anyone ever spoke to me that way or demeaned my career. She said that she'd throw the cake right in his face. Melissa then schooled her hubby on the fact that it's a new millennium and that he needs to stop being so old-school. She also told him to never speak to her like that and rather he should look at her with pride and praise her for being a go-getter.
More: Jacqueline Laurita's paranoia on RHONJ will end up biting her in the ass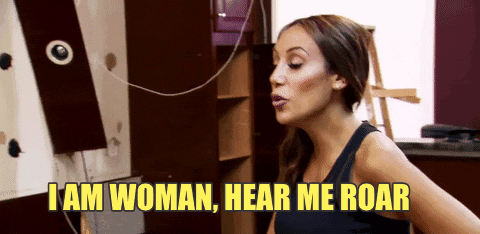 You'd think that would put him in his place, right? Wrong. He then took his ridiculous argument to another infuriating level by saying he "put" Melissa where she's at right now. Yes, she was not happy with that remark, either. She told him that none of this is about the money, but because she wants to "feel successful" and that he should support her because he is the one who taught her how to work so hard.
Clearly, it doesn't seem like he's going to change anytime soon. I mean, during one of Joe's interviews, he even said that with the money Melissa is earning she might be able to buy him a "pair of sneakers." How rude is that? I would think someone who "supports" their wife so much would never speak about her or her dreams like that.
More: Siggy Flicker is the change RHONJ needed
Melissa even suggested that maybe they bring in help for their three children, but Joe shot that idea down because he wants his wife to raise the kids. Heaven forbid Joe raise them for a bit while Melissa is running her boutique. Yes, he's helped out from time to time, but only ever seems to complain and be negative about it all.
The way Melissa stood her ground and didn't let Joe walk all over her was a beautiful thing. She is clearly the feminist hero of the Real Housewives series. I also love how she didn't give into Joe's wants by saying, "Yes, honey I'll take a step back from the boutique," but was rather like, "This is my life now, so take it or leave it."
Granted, she did try to smooth things over with Joe by cooking a big family dinner, which made him exclaim, "Thank you, Jesus. There is a home-cooked meal." Well, Joe had better face the facts, which are Melissa isn't going back to solely being a stay-at-home mom and she isn't giving up the boutique just to make him happy.
This is a different chapter in their lives and Joe needs to realize that. Also, doesn't he want Melissa to set a great example for their daughter? That's exactly what she's doing by building her own business from the ground up and running it.
Basically, Joe had better start taking Melissa's Season 7 tagline ("I always act like a lady. But now I think like a boss") seriously or he's going to find himself in a bigger fight than the ones he's had with his sister Teresa Giudice.
More: RHONJ's Teresa Giudice will probably drive Melissa & Jacqueline apart
The Real Housewives of New Jersey airs Sundays at 8/7c on Bravo.
Before you go, check out our slideshow below.