ICYMI, Nick Viall has officially been named the star of the next Bachelor. Woohoo! Oh… I mean… that's cool if you're into that kind of thing.
Who am I kidding? I've been high-key crushing on Viall this season on Bachelor in Paradise (and, if we're really being honest, long before then), so I'm pretty pumped.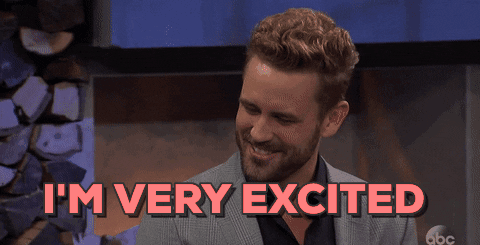 More: Forget Bachelor in Paradise news, Nick Viall is the next Bachelor
Of course, Viall isn't without controversy. After being dumped by Bachelorette Andi Dorfman for Josh Murray, Viall became the unofficial villain of the franchise when he called Dorfman out for sleeping with him — on the After the Final Rose special, in front of millions of viewers.
He then went on to crash Kaitlyn Bristowe's season, a move that seriously ruffled feathers among the existing contestants. Alas, he walked away heartbroken once more… a harsh reality that has been referenced more than once on this season's Bachelor in Paradise.
Viall's past became particularly publicized when none other than Murray showed up and "stole" the very girl Viall had been courting, Amanda Stanton. From that moment on, anytime Murray hasn't been sucking face with Stanton (which isn't very often, tbh), he and Viall seem to clash or have practically palpable tension.
The source? At first, Stanton. But the subject that really rubs Murray the wrong way is any mention of Dorfman's tell-all, It's Not Okay: Turning Heartbreak into Happily Never After.
This has led many a viewer to tweet that the big winner of this season is actually Dorfman, whose book sales had to have spiked from the curiosity all of this idle chatter piqued. I'm not ashamed to admit I've been dying to know what the ex-Bachelorette had to say about Viall — after all, he has asserted more than once that most of what Dorfman wrote about him is true.
More: 7 things to know about The Bachelor contestant from a polygamous cult
So, without further ado, let's take a look at a few of the things Dorfman said about Viall in her salacious and brutally honest book.
1. He was inappropriate on their overnight date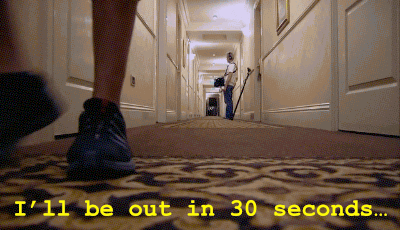 Apparently things did not go well during Dorfman and Viall's Fantasy Suite date. Sure, they had sex (we all know about that, thanks to Viall), but that doesn't mean it was good. "As he opened his mouth to speak, I was certain he was going to tell me he loved me. But instead, he asked, 'Would you rather?…' 'Ummm, would I rather what?' 'Would you rather make love… or f***?' he asked without hesitation or the slightest sense of how bizarre this conversation was." When Dorfman replied she preferred to make love, Viall apparently responded with, "Well, If I had four times, I'd like to f*** the first three times and make love the fourth." Personally, I think Viall's question was legit, but as they say, different strokes for different folks.
2. His charisma did not translate in the bedroom
In what Viall has since called a "blow to the ego," Dorfman did not mince any words when it came to describing what her night with the two-time runner-up was like… and it ain't good. "All of the kissing and groping and chemistry we had atop the sheets just wasn't the same underneath them," she revealed, also noting that the sex wasn't "mind-blowing." Nick, my man! Say it ain't so.
3. He misrepresented that night when he "slut-shamed" her on TV
Although Dorfman did a pretty good job of keeping her composure when Viall questioned why she had sex with him during her season, she was actually filled with rage. "This motherf***er! Really? You want to confirm to the world what they probably already know, which is that two consenting adults who had been dating for seven weeks spent the night together without cameras and whaddaya know, had sex?… every part of me wanted to go all Georgia girl cray on his ass and fire back with some snarky response like, 'Oh really? Is that what you're calling it now, because I'm pretty sure you called it 'f***ing' when you were on top of me.' But I didn't. Instead, I held back for one reason and one reason only: my fiancé."
3. He apologized for the whole debacle eventually
After the series aired and Dorfman was officially engaged to Murray, the couple wound up in Chicago one weekend. Viall apparently texted her and asked if they could talk, so she agreed. "Seeing the hurt in my face, he tells me he was angry that he had tried to reach out to me so many times before, and he felt hurt that I refused to see him. This was true — he had, and I had refused both times and told producers that he would have his chance to talk to me at the finale. Turns out that had been a terrible idea on my part, though I think the conversation would have been the same no matter where we had it." OK, so this isn't actually an accusation, but it merits mentioning. #TeamNick
More: If Luke Pell is actually the next Bachelor, I'm giving up on the franchise
5. She considered having sex with him again (after the show)
Again, not quite an accusation, but c'mon — this is juicy stuff and it brings up a salient point that I'll soon make. So, when Dorfman agreed to meet Nick at his apartment to talk, she had a little time to mull over the possible outcomes on what she calls "the longest elevator ride in history." But by the time they actually reached his floor, she'd never really gotten past one pressing thought. "I'm not wondering how the conversation will go or what he will say; I'm wondering if I'll have sex with him again," she said. "I know, I know! That's a terrible thought, and I don't know why my mind even goes there, but it does." Here's my point, then (told you I was coming around to it): If the sex was so awkward in the first place, why would she be considering more? Me thinks Viall was better in bed than Dorfman let on.
6. He exaggerated his lifestyle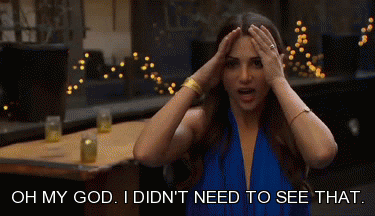 Before all of the drama and broken hearts and baggage, there was a spark — those first few moments Dorfman spent with Viall that drew her in. And part of what impressed her so much about him in those early days was how he spoke of his swanky lifestyle in Chicago. However, when Dorfman visited, she was underwhelmed, in a word. "I had envisioned high ceilings, exposed brick, a view of downtown, a bike on the wall, and contemporary artwork, but it [was] just a garden-variety bachelor pad. And in the shallowest of ways, being in his apartment [gave] me relief that the fantasy I had envisioned [wasn't] reality." Yowch. To her credit, at least she was aware of how shallow that sounded.
7. He was to blame for her breakup
Or, rather, she openly admits she felt that way after Viall outed her. "Sure, I was mad at him, but I never felt like he owed me anything. Did I feel betrayed by him? Absolutely. Did I think that his revelation caused my breakup? At times. But the truth is, while what he did had a damaging effect on my relationship, he wasn't to blame. If it wasn't his revelation, it would have been something else down the road. God knows Number Twenty-Six [Josh Murray] always seemed to find plenty of ammo for our fights."