It was a day just like any other. I was sitting on my bed sifting through entertainment news, pondering what to report next, when bam! There it was. Another cryptic "ALOHA DROGO" Instagram picture shared by the dead-on-TV but very-alive-IRL Jason Momoa.
More: Can't get enough of Game of Thrones? Good news, there's a concert

In the pic, Momoa is seen with a beer-stache enjoying a night out on the town with the Game of Thrones showrunners in Northern Ireland (cough, cough, a major filming location for the show). Sure, he could just be catching up with some old friends, but they all look like they're letting some major secret out. Could that secret be about a horse-riding king returning to Game of Thrones? Me thinketh so.
On top of the convenient rendezvous, Momoa's caption included (as I already mentioned) "ALOHA DROGO." This isn't the first time Momoa has used the term. Obviously "aloha" can mean hello or goodbye, but we were subjected to saying goodbye to Drogo so long ago, why would Momoa keeping making us do it? "Hello Drogo" is just far more satisfying than the other option.
More: All the parts of Cersei's GOT's prophecies haven't been fulfilled — yet
While the smallest hint of a Drogo return turns me on (just being honest here), I'm getting pretty darn sick of this dude playing with my heart. First, is it even really possible for Drogo to come back? It would undoubtedly change everything we've predicted for Daenerys' Season 7 story arc, but Jon Snow rose from the dead? Who says Drogo can't? Especially if Daenerys is runnin' shit and calls for all the Red Women to bring her main squeeze back.
Momoa would never be allowed to reveal such an important spoiler like this, but then for the love of Dothraki, can someone confirm it or tell him to cut it out? Fans are freaking out on his Instagram and my night has been consumed by looking up GIFs that encapsulate Daenerys and Drogo's love (don't worry, a slideshow is coming soon). I will just continue to stare at them all night and dream of a Drogo return. GoT showrunners, we're counting on you!
More: No one is talking about the GoT scene that foreshadowed big changes for Jon Snow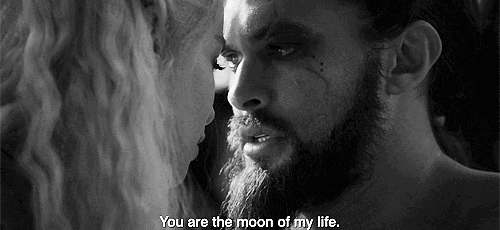 Do you hope Drogo returns to GOT in Season 7? Let us know in the comments below!