The never-ending fight between Teresa Giudice and Jacqueline Laurita continues. However, tonight's Real Housewives of New Jersey just gave a glimmer of hope to fans who want their beloved Lucy and Ethel back.
More: RHONJ's Teresa Giudice will probably drive Melissa & Jacqueline apart
Melissa Gorga, Siggy Flicker and Dolores Catania have planned a trip for all five women. Not only is it partly a celebration for Teresa getting rid of her ankle bracelet, but it's also as a form of intervention for Teresa and Jacqueline. They all believe it will be a great way for them to unite, have some fun and at least get Tre and Jacqueline to a peaceful spot rather than continuously going at each other's throats.
As promising as that sounds (I mean, they both agreed to it), I wouldn't hold your breath for sunshine and rainbows on this trip. I highly doubt any good is going to come from it.
More: Joe Gorga's belittling of Melissa Gorga on RHONJ needs to stop, stat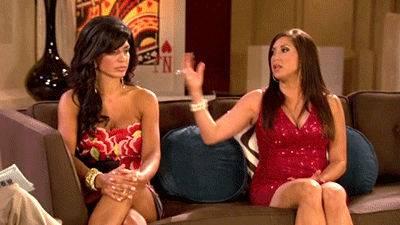 Firstly, the promo showed tension and drama, which is no surprise. At one point, Teresa even calls Joe Giudice to come get her. Secondly, discussions and trips usually go very badly between Teresa and Jacqueline. Will that be the same this time around? Not necessarily, but history always seems to repeat itself on RHONJ — and mainly with these two.
Teresa and Jacqueline were both hesitant about the trip, but it appears that Jacqueline is willing to go above and beyond to make it all better for the sake of her friends. She doesn't like how Siggy, Melissa and Dolores feel put in the middle. Obviously, that doesn't mean Jacqueline will sit back and not stand up for herself. However, maybe she can try to smooth things over just enough that she and Teresa can stand to be in the same room.
It does seem like Teresa is also on the same page because she wants to invite Jacqueline and Chris to her book signing. That speaks volumes, so maybe I'm wrong about their intervention going horribly wrong — though I feel pretty confident in saying that Jacqueline and Teresa making amends won't go without some dramatics and harsh words.
Really, let's just keep those fingers crossed that the former Lucy and Ethel can stop revisiting the past, move forward and get over all of the pettiness. After all, there are more important things in life.
If Melissa, Siggy and Dolores' mediation/intervention doesn't go well, maybe the Gorgas, Lauritas and Giudices all need a "family meeting"? Hey, it kind of works for Teresa's immediate family, so who's to say it wouldn't work for them?
More: Siggy Flicker is the change RHONJ needed
Real Housewives of New Jersey airs Sundays at 8/7c on Bravo.
Before you go, check out our slideshow below.