Vicki Gunvalson's love life is a constant source of drama. After Hurricane Brooks Ayers, it seemed like she finally found a good man that her friends and family approved of and someone who isn't going to make up having a life-threatening illness. Both great qualities in a partner. But the blissful feeling came crashing down yesterday when Gunvalson posted an innocent picture to her Instagram.
The photo shows her and her new boyfriend posing on the streets in Chicago. It's her hometown, so Gunvalson was obviously eager to share it with him and all of her fans. Unfortunately, the corner that they decided to take the picture on was right in front of a Trump tower. The comments that followed were ruthless.
More: RHOC's Vicki Gunvalson's split from Brooks Ayers is a blessing in disguise
In the caption of the photo, Gunvalson wrote, "Yes! #showinghimmyroots" — she didn't even acknowledge that there was a Trump sign behind her, but it was the first thing commenters noticed.
The comments ranged in emotion from, "OMG who could vote for that sick man!" to, "Yes!!!!! #trump2016 of course Vicki is voting Trump, she is a self made woman and doesnt [sic] want the government taking all her money! Anyone with brains would vote #trump!" all the way to, "You know you're vapid California baby boomer materialist trash when you visit your 'hometown' phallic monstrosity on the river. @vickigunvalson you were from here once, real people live here now. Take him to the Signature Room and fly back to materialville."
More: Brooks Ayers is trying to start drama about Vicki Gunvalson's new man
It was a real mess in her comments. She noticed the drama breaking out so Gunvalson reposted the picture with the Trump sign cropped out. She wrote in her second caption, Does this now make everyone happy?!! #chicagoriverskyline #myhometown #rhoc, #woopitup."
Clearly, Gunvalson just wanted to show off her handsome man in her favorite city and isn't amused that people turned it into a political war.
More: Vicki Gunvalson has been showing off her new man very publicly (PHOTOS)
But on the spectrum of drama her relationships have brought into her life, this is pretty mild. She still got to enjoy her vacation and didn't have to defend a single cancer rumor. All around, that's a good day for Vicki Gunvalson.
Before you go, check out our slideshow below.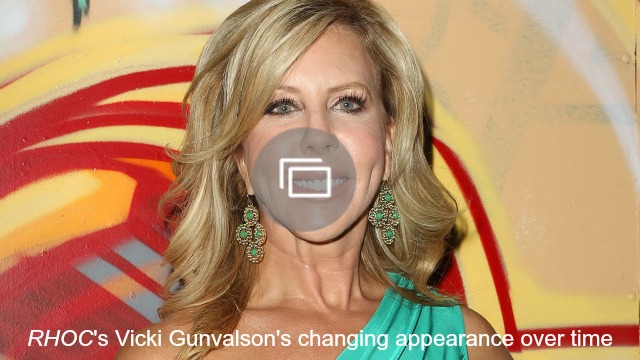 Image: FayesVision/WENN.com