You can always count on Real Housewives of New Jersey's Teresa Giudice and Jacqueline Laurita to have an epic fight. That's exactly what happened in tonight's episode, when Teresa and Joe headed over to Jacqueline and Chris' home for dinner.
More: Joe Gorga's belittling of Melissa Gorga on RHONJ needs to stop, stat
It was supposed to be a get-together to reconcile and start anew, but that definitely didn't happen. Unlike Chris and Joe, who were having a fabulous time bonding over some homemade wine, Tre and Jacqueline fell back into their old habit of arguing over little things that don't even matter anymore.
Similar to the conversation she had with Melissa Gorga (she brought up the past), Teresa just couldn't help but rehash what happened five years ago regarding those tabloids Jacqueline wanted to discuss on her deck. RHONJ fans remember that, right? I thought so.
Really, Teresa needs to stop bringing up the past and move forward rather than backward. However, it doesn't seem like she can help herself. While discussing the opening of Melissa's boutique, Jacqueline expressed her surprise over the fact that there wasn't any drama. Teresa was confused by her remark, and Jacqueline explained that whenever they all hang out in a group setting or at an event, something bad usually happens.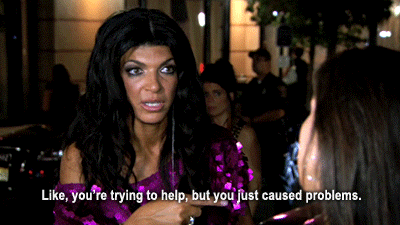 In typical Jacqueline fashion, she did not bite her tongue and instead defended herself. Should Jacqueline maybe have tried to shut Tre down right there and been like, "I'm not going to talk about what happened five years ago, but let's start with a clean slate"? Possibly, but she doesn't want to sweep anything under the rug and she refuses to not express her opinion. I can't blame her there. Her fights with Teresa are getting old real fast, though. Too bad they can't keep on trucking in a positive direction.
More: Siggy Flicker is the change RHONJ needed
You know it's bad when Joe Gorga is brought into the mix. That's right: Teresa said her brother told her not to trust Jacqueline back in the day. How did Jacqueline respond? By saying Joe told her not to trust Teresa. It didn't stop there, however, because Jacqueline called him for clarification. He said that he couldn't remember what he said but that it's now up to them to work everything out.
Things continued to go downhill from there, with Jacqueline saying she would have never filed a "fraudulent bankruptcy" like Teresa. That was all Teresa could take before she told Joe they were leaving. Once again, Joe and Chris go into a separate room and have a great time while their wives get into a huge argument that can't be solved.
It's clear that "Lucy and Ethel" aren't going to ever be friends again, or at least, it will take a while before they can find some common ground. Plus, this whole fight is probably going to cause even more drama. Now that Teresa and Melissa are trying to move forward, I have a feeling Jacqueline and Tre's contention will drive a wedge between Jacqueline and Melissa.
Melissa may very well choose to side with her sister-in-law and stick by her family, which then means bad blood between the Gorgas and the Lauritas. It will be too bad if that does happen, especially since Melissa and Jacqueline are pretty good friends. Based on the promo for next Sunday's episode, there is tension between Melissa and Jacqueline as they discuss the fight.
More: Teresa Giudice's RHONJ homecoming is far from sunshine and rainbows
All of this is putting Melissa in a bad position because she's trying to keep things cool with Teresa, not to mention her husband and the entire family. Plus, Jacqueline is her friend. Will she choose her friend, choose her sister-in-law or refuse to take sides and stay true to both?
Whatever happens, it's going to be messy. Would you expect anything less from Jacqueline and Teresa? Yeah, me either.
Real Housewives of New Jersey airs Sundays at 8/7c on Bravo.
Before you go, check out our slideshow below.