LL Cool J does not hold back on the NCIS: LA Season 8 spoilers
Aug 12, 2016 at 4:26 p.m. ET
Well, Season 8 of NCIS: Los Angeles sounds like it's going to be a stressful one. While chatting with E! News Wednesday at the 2016 Television Critics' Association press tour, LL Cool J dropped a major bombshell. It sure seems like a member of the Office of Special Projects is going to die.
More: NCIS: LA: Does Daniela Ruah's pregnancy mean there will be a Densi baby?
The man who brings Sam to life on the CBS hit series said, "#Somebody's got to die." Either he means a character is going to bite the dust or he wants someone to die. He also added, "#Somebody's got to go, you know? #Changes. #You need to watch."
You can interpret his response any way you want, but why else would he drop such a not-so-subtle spoiler? It's definitely a great way to entice viewers and to get them to tune in, but it definitely sounds like LL is serious. Come Season 8, fans will know if his tease is for real.
Now, if someone does indeed die, who will it be? According to the Season 8 premiere episode description (via TVLine), "The team is under investigation by the Under Secretary of the Navy due to the identification of a mole in their department."
More: Tony's NCIS farewell episode felt more like a dream sequence than a goodbye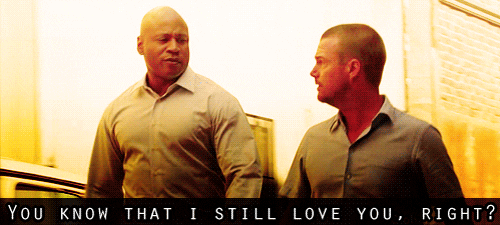 There's a good chance this so-called mole will die. And if it's someone the characters and fans know, it will hurt that much more. Or what if it's one of the main characters? Callen, Kensi, Deeks, Hetty, Eric, Nell, Granger or LL's character Sam — it could be anyone. NCIS: LA fans, how worried are you?
Now, maybe this is a stretch, but what if LL is dropping this spoiler about his own character? Think about it. This could be his way of messing with fans and being like, "You think another character will die, but it's actually mine."
More: If NCIS' Ziva is really dead, I might start a riot
Really, it could be anyone, but one thing remains certain and that's LL's making Season 8 sound ominous.
NCIS: Los Angeles returns Sunday, Oct. 2 at 8/7c on CBS.
Before you go, check out our slideshow below.