May 12, 2016 will always be remembered as the day ABC made one of its biggest mistakes ever. Yes, it was the day Agent Carter was canceled. It still hurts to write those words and to even think about how Peggy Carter (played by the magnificent Hayley Atwell) won't appear on my TV during the 2016-2017 season.
More: Marvel's Agent Carter review: Peggy is just the kind of heroine TV needs
Ever since the cancellation was announced, fans of the series have been hoping for some type of resurrection, whether it be on Netflix, Hulu, a TV movie or possibly an actual movie on the big screen. Well, even though there is no revival in the works at the moment, there appears to be a chance that it may actually happen.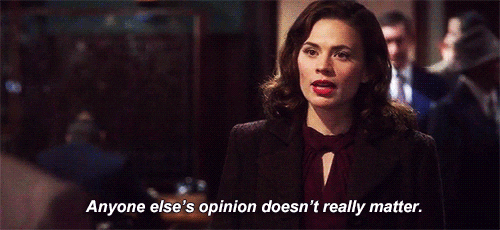 While chatting with TV Line Tuesday, Marvel TV chief Jeph Loeb said that he, too, would like to see Agent Carter revived. "Every person who's reading this sat in a movie theater and saw Phil Coulson die in The Avengers, and we're now about to start our 67th episode, on our way to 100 episodes, of Marvel's Agents of S.H.I.E.L.D., none of which would have happened without Phil Coulson and Clark Gregg," Loeb explained. "I'm incredibly grateful that Hayley has been bold enough to say that she would love to play that part again. So… 'I hope so' is the short answer."
Yes, even Atwell is on board for a revival. As she told TV Line at the 2016 Television Critics' Association in August, "It's still a much-loved show for the people involved in the making of it, and we know it has a special place in the fans' hearts." She continued, "And that's something that I would be very happy to go back to, if the opportunity came."
So, what's the hold up? Why isn't this happening as I write this and both Loeb and Atwell are saying, "Let's do this!"? Well, there's a lot of red tape to cut through. Of course, there is. Loeb explained to TV Line that Marvel TV doesn't put a project into action without first knowing where it will play. "What Marvel Television does every day is it connects with our partners — ABC, FX, Fox, Netflix, Freeform — and they tell us when they would like it," Loeb said. He went on to add that when or if someone ever reaches out and wants some type of Agent Carter reboot (like a two-hour TV movie), then he will gladly do it.
More: 34 Marvel Easter eggs you probably missed and should definitely see
I'm sure this news makes fans breathe a sigh of relief. Seeing as two major players of the Marvel universe both want to bring Agent Carter back, then it's probably going to happen, right? I would be surprised if it didn't, especially since die-hard fans of the series are still missing it greatly. They would be beyond thrilled to see Peggy, Jarvis, Daniel, Jack (if he's still alive) and every other character once again.
An #AgentCarter movie? SIGN ME FOR THIS

— sweet jisoos (@expalta) August 10, 2016
I would watch the hell out of an #AgentCarter movie in the MCU. DC made a Wonder Woman flick and they can't even make movies!

— Mikasso 😻 (@MikeMatola) August 10, 2016
Hell yeah! I'd see a 2 hour movie with Peggy. #AgentCarter should continue in any form! https://t.co/pGrvxvIH1k

— Daredevilicious (@itsamarvelworld) August 9, 2016
That is not how you end a show! All cancelled shows should be allowed a wrap up season or movie. #AgentCarter

— Lorelei Tutt (@lorjeztutt) August 7, 2016

As exciting as it is to know that Agent Carter will most likely be resurrected, it still leaves a bitter taste in my mouth. First of all, only rumors, hopes and dreams are currently surrounding the revival. Secondly, none of this fixes the fact that is was canceled. Finally, it doesn't bring it back right this moment.
Agent Carter is still very much gone. You know what will make all of this better and please fans? Actually making a movie or some type of return for the series that featured an unapologetic badass and feminist lead. I know, I know; this is Hollywood we're talking about and things don't happen immediately. I should just be happy that at least Atwell and Loeb are remaining positive about Agent Carter. Don't get me wrong, I am, but the cancellation remains frustrating.
That said, I'll try to do my best to not let my irritation with Agent Carter getting the chop overshadow my excitement for a revival, which will absolutely happen. See? The positivity I'm channeling from Atwell is already paying off.
More: Ugh, of course the internet is being childish over Marvel's new WoC Iron Man
Before you go, check out our slideshow below.