Update: Jan. 23, 2017, 8 a.m. PT: Kody Brown's fight to legalize polygamy is over for now.
The U.S. Supreme Court has decided that it won't hear the Brown family's case challenging Utah's ban on polygamy, saying that because the family has never been charged under the ban, they can't sue over it. The Court's decision not to hear the case means that a lower court's decision not to overturn Utah's ban on polygamy will stay in place, and the Brown family can't file any more appeals.

Update: Jan. 10, 2017, 12:30 p.m. PT: The U.S. Supreme Court is scheduled to discuss Sister Wives' Kody Brown's case for legalized polygamy in conference later this month. It's expected to be decided during the discussion, on Jan. 19, whether the case will go before the Supreme Court for the justices to make a decision.

Update: Dec. 28, 2016, 9 a.m. PT: The state of Utah is asking the U.S. Supreme Court not to consider the Brown family's case.
The state filed a brief this week responding to the Brown family's lawsuit seeking an end to Utah's ban on polygamy citing the ban as a condition of Utah's statehood — Utah was required to ban polygamy when it became a state in 1894 — and asking the U.S. Supreme Court to uphold it.
"The Enabling Act's polygamy ban, which Petitioners have not challenged in this case, was to be 'irrevocable without the consent of the United States and the people of' Utah," Utah Solicitor General Tyler Green wrote. "Utah's founders complied and adopted the ban, which remains part of Utah's constitution."
Green also argued that Utah's ban on polygamy has gone largely unenforced, and that law enforcement officials have only sought out polygamists when other crimes like abuse, fraud and child-bride marriages are involved.

Update: Nov. 2, 2016, 7:14 a.m. PT: The U.S. Supreme Court seems to be interested in the case. According to The Salt Lake Tribune, a spokesman for the attorney general's office, Dan Burton, confirms the court asked the Utah Attorney General's Office to respond to the appeal from the Sister Wives family.
Original article:
As you may already know, polygamy is not a method of marriage that is used only in the household of Kody Brown and his wives on TLC's popular reality series Sister Wives. In fact, the idea of a man marrying more than one woman at a time is a common practice for a select number of families — oftentimes because they practice religions that encourage polygamy — and is practiced both within and outside of the United States. And now Kody Brown and his four wives (Christine, Meri, Robyn and Janelle) are taking what originally began as a 2012 lawsuit against the state of Utah to a more national level: Their petition against the criminalization of polygamy is headed to the U.S. Supreme Court. Yep, a reality television show could be changing the ways marriage is viewed in the United States as we know it.
In fact, Brown and his four wives officially filed the request on Monday, Sept. 12 for the U.S. Supreme Court to hear their case for legalizing polygamy.
Now, before you begin passing judgment, it should be noted that nationwide legalization of polygamy isn't exactly what they're asking for. If anything, the Sister Wives stars are looking for justice in terms of their own religious freedom and the freedom of speech and to privacy in regard to the ways they are choosing to live their lives instead of constantly facing threats of prosecution or any other possible legal charges that may hang over what they refer to as their "spiritual union," making this the first time in over 100 years that the U.S. Supreme Court is looking at a case related to polygamy. Things just got really real.
More: Kody Brown and his sister wives are sick of being considered 'criminals'
But what brought them to this point? Well, after their 2012 case against Utah, Brown and his wives actually did take a step in the right direction for the polygamist cause. The federal court overturned Utah's bigamy law in 2013, therefore legalizing the idea of polygamy to a point where one could not be arrested because of it. However, when the cause they sued Utah for in the first place contained no backing, their case was thrown out in April 2016. And they will now be taking what began as a statewide ban onto the national stage as soon as a Sept. 10 hearing.
.@realkodybrown and wives plan polygamy petition to #SCOTUS: https://t.co/9dVjT3yZ6c @fox13now #SisterWives #Utah pic.twitter.com/8wDL3L1g7t

— Ben Winslow (@BenWinslow) August 9, 2016

More: Sister Wives' Kody Brown reveals he wanted to quit the show
Meanwhile, the possible passing of the petition could also directly affect the already bonded family, as Brown has a legal contract with only one of his wives, Robyn, therefore resulting in what could be three more televised wedding ceremonies to legally bond the polygamist family as one if their petition goes as planned. And who knows? Maybe this could even be means for Brown to introduce another wife into their family. We'll just have to wait and see.
More: Sister Wives' 11 biggest battles and blowups
Do you think polygamy should be decriminalized?
Before you go, check out our slideshow below: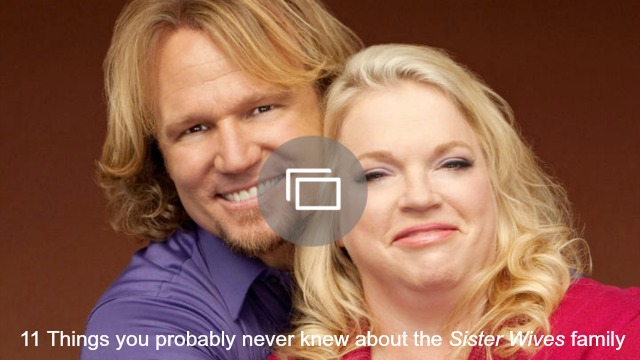 This article was originally published August 2016 and updated November 2016.