After an awesome princess-themed bachelorette in Las Vegas (which included a trip to Jennifer Lopez's All I Have residency performance at Planet Hollywood Resort & Casino), Dancing with the Stars pro Kym Johnson celebrated an even more special moment on Sunday: She married Robert Herjavec.
More: 16 throwback celebrity wedding photos for your daily dose of 'aw'
It's the celeb wedding we've all been waiting for, and the couple spared no expense. According to E! News, the ceremony took place at the Four Seasons in Beverly Hills, and it was not a small affair. Executed by wedding planner Michael Russo, the affair included personal touches such as rosemary sprigs in the groomsmen's lapels (a Croatian tradition, consistent with Herjavec's heritage) and a crest designed for the couple by Ceci New York. Johnson and Herjavec were joined by 250 guests, including Carrie Ann Inaba, Joey Fatone, Lance Bass and Donny Osmond, People reports.
More: DWTS' Kym Johnson will not stop gushing over Robert Herjavec
The ceremony, which included the couple's handwritten vows, was incredibly emotional, as Johnson was walked down the aisle with her mother and father while "Somewhere Over the Rainbow" played. She looked beautiful in her Monique Lhuillier strapless gown — we think the groom approved, and by the look of things, he was pretty invested in the decision.
And, as Cheryl Burke revealed on Instagram, the rehearsal dinner was every bit as fabulous as the wedding ceremony.
Herjavec pulled out all the stops for his super-romantic proposal to Johnson earlier this year, so the pressure must have been on when it came to giving his bride the perfect wedding, and by the look of it, he succeeded — and we have Derek Hough to thank for giving us a glimpse into the lavish affair.
Hough took to Snapchat to share some of the most special moments from the wedding, including the bride and groom's first dance.
He also shared a Snapchat video of his table and the beautiful white decorations, as well as a video of himself singing "Wedding Bells."
And if we had any doubt about whether we should be following Hough on Snapchat, we think he's proven we definitely should be!
The dancing continued until 2:30 a.m. and included a surprise number by Johnson and a local Croatian dance group. Guest Olivia Newton-John also joined in singing "Happy Birthday" with Herjavec to a starstruck Johnson (whose 40th birthday is on Thursday). According to Herjavec, the party was apparently so intense that "we didn't need to pay for the food! I don't think anybody ate."
Congratulations to the happy couple!
More: DWTS' Kym Johnson spills details from Robert Herjavec's big proposal
Do you think Kym Johnson and Robert Herjavec are a match made in heaven? Share your thoughts with us in the comments below.
Before you go, check out our slideshow below: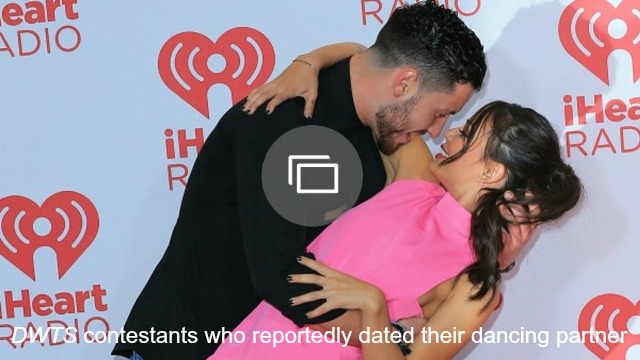 This article was originally published on Aug. 1 and updated on Aug. 3.