Joe Gorga's belittling of Melissa Gorga on RHONJ needs to stop, stat
Jul 31, 2016 at 9:53 p.m. ET
The horribleness of Joe Gorga continues. During tonight's Real Housewives of New Jersey, Melissa Gorga finally opened up her fashion boutique, Envy, and in typical fashion, Joe ruined it by disrespecting his wife's success.
More: Siggy Flicker is the change RHONJ needed
Since the first episode of Season 7, fans have been well aware that Joe is not supportive of Melissa's transition from wife and mother to business owner. She's been working hard on opening up her own store, and all Joe can do is complain that his wife isn't home in time to make him dinner.
It's OK to have traditional values when it comes to family and marriage, but that doesn't mean you shouldn't support your spouse and their dreams. Yes, Joe has to get used to this big change in Melissa's life, which is going to take some time. However, he's dealing with it the wrong way — not to mention being super archaic about it.
Joe even admitted to being a "caveman," which isn't something to brag about. The fact that he even felt the need to say that "back in the 1800s" women stayed home and men hunted to "support" his feelings proves how demeaning he's being to his wife and women everywhere. Joe, women don't only belong in the house, in the kitchen and raising kids. Believe it or not, we can do other things in life.
It's also frustrating to hear Joe and Melissa's oldest son say, "Make me some food, woman." To be clear, he said this to Joe when he was home taking care of the kids, while Melissa was preparing for the opening of Envy. The fact that their son believes a woman should be making him food is discouraging, for sure.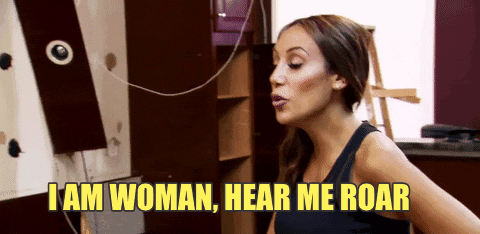 More: Teresa Giudice's RHONJ homecoming is far from sunshine and rainbows
Between Joe going on and on about how Melissa working wasn't in their "contract" 11 years ago, belittling her new business by saying she's just "dealing with clothes" and putting false doubts into her mind about opening up her own business, Joe continues to prove that not only is he just the worst, he isn't a supportive husband at all, either.
At least Melissa is able to ignore him and not let it influence what she wants in life. It's sad to see this from him, especially when she said that he is the one who taught her to "have a set of balls." Joe shouldn't doubt her; he should be proud of her.
Melissa is also a great role model for her daughter, whom she is trying to show that women can be "the best mom, the best wife, but also be successful in their own right." Preach, Melissa. Preach.
To make matters worse, Joe gave Melissa a lackluster apology. Rather than saying, "I'm sorry for my actions, I support you 100 percent, and I'm here for you," he complained about being jealous that the store is taking Melissa away from him. Granted, he told her she is "the best wife a man can have," but he could've done better. She's been by Joe's side for their entire marriage, so he needs to move past being a "caveman" and start praising Melissa.
More: Teresa Giudice's RHONJ return will make you feel things — trust us
The Real Housewives of New Jersey airs Sundays at 8/7c on Bravo.
Before you go, check out our slideshow below.