On Tuesday, it was announced that Blair Underwood is joining Quantico Season 2 in a series regular capacity. He is set to play "charming and direct" CIA officer Owen Hall, who is described as intelligent, inspirational and an agent every emerging operative wishes they could learn from.
More: Quantico is so ridiculous, I was actually rooting for the terrorist
"Blair is the kind of actor you dream of writing for," Quanitco creator and executive producer Joshua Safran said in a statement. "Be it romantic comedy, dark drama, or high-octane thriller — there is nothing he can't do. We look forward to creating a role that will showcase his huge range and boundless charisma."
I absolutely agree with Safran, but can Underwood save Quantico from failing even more than it did in Season 1? When the drama first began, I was hooked and couldn't get enough, especially thanks to star Priyanka Chopra. However, it quickly fell flat and by the time the terrorist's identity was unveiled, I could not have cared less.
More: If Quantico's recruits were real FBI agents, we would all be so screwed
After the Season 1 finale came to an end, I knew I wouldn't be tuning in for the sophomore season. However, that now may change due to Underwood's casting. He is a fantastic actor, whom I enjoy watching bring characters to life. Will he be able to save Quantico? I don't know, but I'm willing to find out.
To be clear, that doesn't mean I'm committing to the entire season. I will, however, watch at least the first and second episodes to see what Underwood brings to the table. Also, let's not forget about Looking's Russell Tovey (below), who is also set as a series regular in Quantico's second season.
As The Hollywood Reporter revealed in June, the role was created specifically for the British actor. He will play Harry Doyle, who is "a mischievous gadabout" and described as "part Thomas Crown, part grown-up Artful Dodger, the mysterious Harry can be anything to anybody — and is just as likely to seduce your husband as he is to pick his pocket when it's over."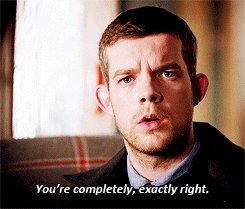 His character sounds intriguing, and I'm not just saying that because I'm a fan of Tovey's work. I'm anxious to see what he'll deliver as Harry Doyle. Also, here's hoping he keeps that accent of his.
Between Underwood and Tovey, Quantico's upcoming season is starting to look better by the minute. Now, keep those fingers crossed that they can turn around the series in a positive way.
Quantico Season 2 premieres Sunday, Sept. 25 at 10/9c on ABC.
More: Quantico: I'd rather see Parrish team up with Shelby than any of her crushes
Before you go, check out our slideshow below.