After much anticipation, Real Housewives of New Jersey finally returned tonight with Season 7. As excited as I'm sure fans were for the show as a whole, I have a feeling that many fans were looking forward to Teresa Giudice's triumphant comeback even more. Well, the latter definitely didn't disappoint — and it mainly resonated on an emotional level.
More: 13 things Teresa Giudice has accomplished since leaving prison (as told by Instagram)
When RHONJ Season 6 ended, both Teresa and her husband, Joe Giudice, were sentenced to serve out separate sentences in prison for fraud, including bankruptcy fraud and failing to file income tax returns. In December 2015, Teresa was released from prison after serving almost 12 months. Joe is currently serving his 41-month sentence. At the time of the couple's sentencing, the judge ruled that they would serve back-to-back sentences for the sake of their daughters, Gia, Audriana, Milania and Gabriella.
As for Teresa's homecoming in the RHONJ Season 7 premiere, fans knew it would be emotional, especially based on the promo. Well, it certainly was. The Real Housewives franchise is known for sometimes producing emotional moments — that is, when it isn't showcasing drama and fights. Actually, Teresa's homecoming is one for the books.
When she walked through that door to greet her family, if you didn't at least get a little bit misty-eyed, you must prefer the drama of Housewives.
More: Teresa Giudice drops a bombshell in her first post-prison sit-down interview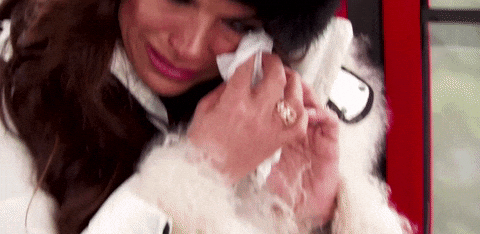 The first time Teresa turned that corner into her kitchen and saw Joe, it was a bit underwhelming, thanks to Joe sitting at the counter checking his phone. Rather than hopping up right away, he just kind of chilled there. Eventually, he stood up and the two hugged deeply. Granted, maybe Joe was just both nervous and overwhelmed with all of the emotions that came with the moment.
However, their daughters couldn't have been more excited. From their laughter to their screams of joy to their tears to their running and jumping into Teresa's arms, they made this an unforgettable RHONJ scene. The girls also made Teresa "welcome home" signs, which proved even further how much they missed their mom and love her.
As much as you may not support Teresa, Joe or their actions, their daughters are innocent in the situation. All of this has to be so hard, confusing and sad for these girls, so to see their faces upon being reunited with their mom truly makes for an emotional and memorable Housewives moment.
More: Teresa Giudice reveals why she's worried about Joe's prison sentence (VIDEO)
Who knows whether the rest of the season will be as emotional, but there's no doubt that Teresa's story line is going to be the most talked about — and one that will take RHONJ to a whole new level.
Real Housewives of New Jersey airs Sundays at 8/7c on Bravo.