I get it, breakups are tough. But no breakup should be starve-yourself tough.
More: Nobody does confusing breakups like Vicki Gunvalson and Brooks Ayers
RHOC's Vicki Gunvalson revealed to Entertainment Tonight that she lost 22 pounds following her breakup from Brooks Ayers by eating just 500 calories a day.
"You know what, I was at such a depressed state," Gunvalson explained. "I'm 54 now, and your metabolism changes. I put on, like, 10 pounds from my 40s to my 50s, and I never felt strong."
Limiting your calories that drastically definitely isn't the way to help a woman feel strong. If anything, it will make you feel fatigued, slow your metabolism into starvation mode and cause all sorts of unnecessary problems.
According to People, weight-loss experts don't recommend women eat less than 1,200 calories on a restrictive diet, while men should be at a minimum of 1,800 calories.
So why didn't Gunvalson just hit the gym instead of drastically reducing her calorie intake?
"I don't want to be a bodybuilder," she said. "I don't want to do all that stuff, but I wanted to feel like, OK, I'm gonna be single now. I gotta look my best, right?"
More: Vicki Gunvalson has been showing off her new man very publicly
Uh, wrong.
Hitting the gym doesn't mean you have to go crazy and become a bodybuilder. A balance of exercise and healthy eating is the best way to get lean and toned. Hands down.
Gunvalson limited her calories over a three-month period.
"I cut out all alcohol… [I was down to] 500 calories a day. No carbs, so I just did lettuce and grapefruit in the morning… celery, carrots, whatever it could be. Just very raw, and then nothing really for lunch. I would just do water, lemon water. Hot lemon water. And then at night, I would just have salad and protein, and it worked!"
To put this into even more perspective, Anne Hathaway admitted that she went on a 500-calorie diet for her role in Les Misérables when she was supposed to be a sick, dying, destitute woman.
It just really saddens me that Gunvalson felt the need to do this to live up to society's ideals of beauty rather than finding her own beauty within herself. She deserves happiness and confidence, but I just don't think a 500-calorie diet is the way for any woman to actually achieve that goal.
More: Unless there's a love triangle, Vicki Gunvalson isn't going back to Brooks Ayers
Check out Gunvalson's full interview with ET below.
Are you shocked that Gunvalson is so openly flaunting her unhealthy diet?
Before you go, check out our slideshow below.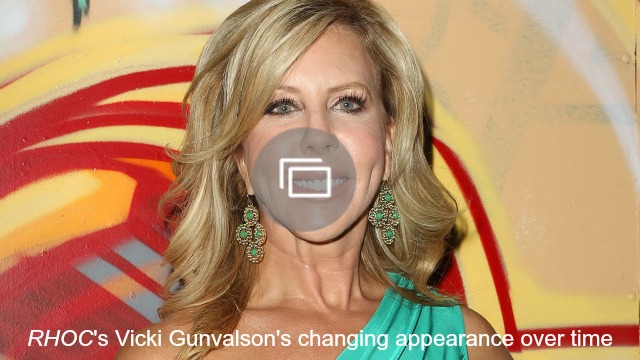 Image: FayesVision/WENN.com