Amy Schumer has found love in a hopeless place. Well, we're not sure how hopeless of a place she found it in, but the comedian has been open about her dating struggles in the past. Now, it sounds like she may have finally found Mr. Right.
Schumer graces the cover of the July issue of Vogue and reveals that she's very much in love with her man, Chicago furniture designer Ben Hanisch.
More: Trolls, please take a moment to read Amy Schumer's caption on her swimsuit photo
"We're in love," Schumer said. "And we're still in total honeymoon phase. It's a real relationship. Who knows what will happen, but we're real good right now."
The comedy star has often joked about her past dating struggles, making them the subject of her stand-up and even her movie Trainwreck.
"Remember 20s love? You're just so arrogant," Schumer said in an HBO standup special. "You're like, 'We're so lucky we found each other. What are all these sad songs about? [Laughs.]' I think of 20s love as the same as the tsunami, because I read that in the tsunami the tide was way in, so fish were flopping around the shore and people were like siked, they were gathering them with baskets like, I can't believe my luck, look at all these fish!' That's like 20s love, you're like, 'For me and me!' And then you're like oh f*** and [a huge wave] murders you, but enjoy it."
More: Amy Schumer was right to be royally pissed at one downright disrespectful fan
Schumer also opened up about her struggles with dating and self-confidence in her early 20s and college days.
"I lost all my self-esteem freshman year," Schumer admitted. "I think I was maybe in the twenty-fifth percentile in hotness. And then in my sophomore year, I probably had sex with six guys, and I was like, Maybe I'm like Samantha in Sex and the City and I'll just keep this train movin' so that I don't get attached to anybody. And you won't believe this, but that did not work out. But I always thought that sex was funny. I was always interested in it."
More: Amy Schumer tried a new kind of comedy in Trainwreck, and I wish she hadn't
The 35-year-old actress has definitely gained self-confidence since her college days. She's killing it right now! We're happy to see she's loving life and that she found love with Hanisch.
Before you go, check out our slideshow below.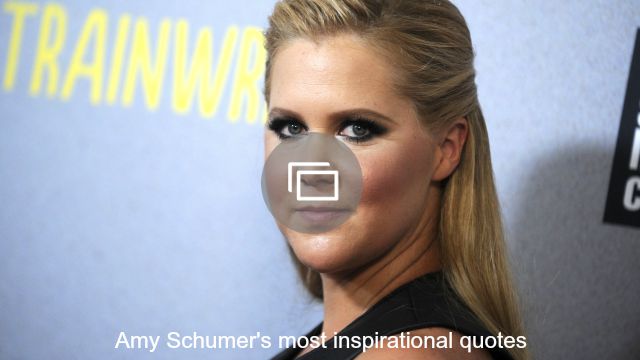 Image: Getty Images