The CMT Awards happened last night, and boy, was it a mess. Not only did the red carpet interviews infuriate us with its blatantly sexist, lazy questions, but there was a clear lack of communication between the director and its red carpet hosts (we can't even count how many times they cut interviews short on camera, just to awkwardly stand around and then pick the interview back up seconds later… really?). And the show hadn't even officially started.
More: Chewbacca Mom won the CMTs before the first award was even given
But between sexist interviews came a shining moment: the most unexpected celeb presence, Vince Vaughn. Sure, the interviewer asked him about Wedding Crashers not once, but twice — a film he starred in 11 years ago — and he "forgot" to use the mic for a bit when answering her questions (how many red carpets have you done again, Vaughn?). But we couldn't help but notice his demeanor: out of it, spacey, sluggish, even tired looking. Don't get me wrong — he looked slick in his suit, but seemingly everyone could tell there was something up.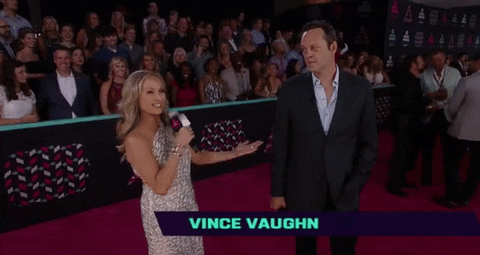 But that wasn't the end of it. Here's a moment during the show, after Tim McGraw won an award. What's up with that look?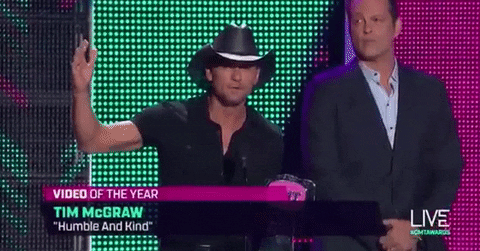 Before that moment, when he went to present an award, he gave his thoughts on Erin Andrews and J. J. Watts' hosting abilities. Is this not the most aggressively delivered compliment you've ever seen?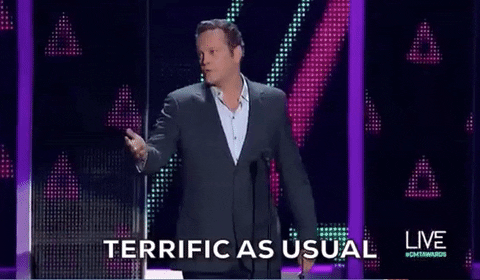 Oh, and his reaction to Pit Bull's performance? This gem:
Stone cold.
More: Dear Dierks Bentley: You don't understand women at all
While we'll probably never know what was going through Vaughn's mind during that awfully long CMT Awards, at least we're now blessed with a few GIF gems.
I will leave you, though, with the comfort of knowing that, no, he didn't appear to be upset and uncomfortable all night. He took this picture with Luke Bryan, and now all is right in the world:
Happy Vaughn is the best Vaughn… or is it?
More: Someone tell the CMT Awards that country female artists aren't just 'hot'
What do you think was going through Vince Vaughn's head during the CMT Awards? Let us know in the comments below.
Before you go, check out our slideshow below.