Food Network Star's debut began with all the contestants shooting 30-second cold opens that were then screened in a movie theater as all the judges watched and ate dishes everyone prepared. With so many contestants, it was necessary to quickly move through each person to fit everyone into the one-hour time slot.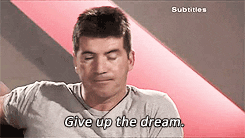 More: 'Food Network Star': Where are they now?
Still, with no notable dramatic turns, save for a small kitchen fire, it was difficult to differentiate between contestants, and the whole episode largely blurred together. I was left wishing that the judges had done more to provide viewers with a tension that kept us engaged.
As I was watching, I missed the narratives woven around each contestant in America's Next Top Model, the way Tyra Banks seems to truly invest in each person on the show. And, I remembered Simon Cowell and Paula Abdul's dynamic on American Idol, where their disagreement about performances was intense and exciting, even when the contestants themselves were not.
More: Anthony Bourdain vs. Paula Deen: Cooking insults continue
Instead, Flay and De Laurentiis consistently agreed with one another, making lukewarm compliments about most of the dishes and cold opens, vague comments about presentation, and one repeated critique that a certain chicken dish tasted like carbon (which, by the way, is not a taste I can readily identify — am I alone in this?).
The elimination process, too, was brief and completely drama-free. The contestants were narrowed down to the three who performed the worst that week, and the person eliminated was quickly announced. We got no insight into why and how the judges made their decisions, where they disagreed, and what they wanted from the low-performing contestants in the future.
The judges' lackluster performance was particularly ironic considering the fact that the entire theme of the episode was teaching the contestants how to be charming on camera. If even De Laurentiis and Flay cannot provide compelling performances on the show, how can we expect the contestants to capture our attention for the rest of the season?
More: Guy Fieri made nachos in a trash can, and they look surprisingly good
Ultimately, I hope that, as the season continues, we are given reasons to invest in the contestants, and that the show becomes more of a narrative, one defined by tension, obstacles, changes, and disagreements between stars and between judges. I expect more from De Laurentiis and Flay as leaders of the show.
Before you go, check out our slideshow below.