Yes, our jaws dropped too when we discovered that not only were Rob Kardashian and Blac Chyna planning a fairy-tale wedding but they were also expecting their first child together. And while the couple are thrilled that they'll be welcoming a child into this world, apparently Chyna has some reservations about her pregnancy.
More: Blac Chyna is pregnant; we repeat: Blac Chyna is pregnant!
And those reservations have something to do with food, because while she has pregnancy cravings for greasy food and milkshakes, she's reportedly worried that this will affect Kardashian's eating plan. At least, this is what a source told Hollywood Life, who claims that Kardashian has been doing some sympathy eating.
"Blac can't believe she's pregnant again and she's loving every minute of it. However, she has one big concern and that's her fiancé," an insider told the publication. "She's scared that Rob's going to pack on paternity weight during the pregnancy. Whatever she eats, so does he. They've been gorging on burgers, fries, milkshakes — the works. And she's got a lot of snacks and chocolate at the house. She explained to Rob that he can't eat what she's eating."
More: Dang! Rob Kardashian will have to sell a lot more socks after this robbery
Yikes. We hope this isn't the case, because Kardashian has been working so hard to shed the excess pounds, and this could be a major setback, especially if the bad food is so easily accessible.
"She's told him that she's eating for two now and that he has to continue on his strict protein and veggie diet," the source adds. "It's been a little challenging for Rob to eat healthy since he makes food runs for Chyna. Blac compliments him all the time on how handsome he looks now that he's lost weight and encourages him daily to keep up his routine."
There are so many positive things happening in Rob Kardashian's life now, it's probably unlikely that he will slip into his old habits (which also led him to become a social media recluse), but let's hope that this is not the case.
More: KUWTK sneak peek shows Blac Chyna drama & literally makes me laugh out loud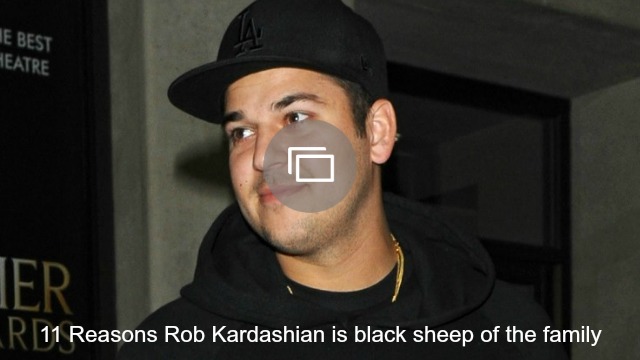 What do you think? Could Blac Chyna's pregnancy be bad news for Rob Kardashian? Or do you not believe the report? Share your thoughts with us in the comments below.