Only two episodes remain in Season 13 of NCIS, which means Michael Weatherly's final days as Tony DiNozzo are quickly approaching. It still remains unclear how Tony will exit, but Weatherly offered up quite the cryptic teases while chatting with Extra about his character's final story line.
More: Thanks, NCIS, for breaking my heart with that Tony DiNozzo goodbye promo
There are some fans who are worried that Tony could be killed off, and as Weatherly told Extra, "Part of him dies. I do know that there is death… sudden death." What's that now? The 47-year-old actor wouldn't elaborate, but is there a chance that "part of him dies" means Robert Wagner's character, Anthony DiNozzo Sr., may die? Wagner is part of the Season 13 finale, which is also titled "Family First." There's always a chance Tony leaves due to his father's death. If Tony's father were to die, then a huge part of him would also die, wouldn't it?
Or maybe Weatherly just means part of Tony dies due to the fact that he decides to leave NCIS, his beloved job and his NCIS family after all these years. It's been a huge part of him and has shaped him over the years, so that is also an option. As for the "sudden death" he teased, he could be referring to Fornell, who was shot in last Tuesday's episode. Let's just hope DiNozzo Sr. and Fornell don't die.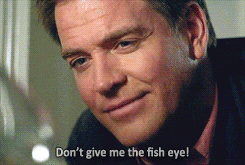 More: NCIS' Tony and Ziva won't exactly reunite — but I'm not freaking out just yet
If that isn't enough to make fans more nervous about the finale than I'm sure they already are, Weatherly also hinted the following, "I hope that everyone in fanland understands that this was the natural way for DiNozzo to leave… and DiNozzo leaves NCIS the same way he came… which is my cryptic little puzzle message to the fans."
So, how did Tony come to first work at NCIS? Not only did he arrest an undercover Gibbs, but he was working at the Baltimore P.D. on a money laundering case, which led to Gibbs offering him a job at NCIS. The rest is history. Does his exit have something to do with Gibbs? Does it have something to do with Tony wanting a change career-wise?
Or, for those die-hard NCIS fans, during Season 1, Episode 2, Kate asked Tony how he got into NCIS. He replied, "I smiled." So, does he leave with a smile? If so, that's good sign that Tony leaves on his own terms, happy and not dead.
With that, I am now even more stressed than I already was about his impending departure.
NCIS airs Tuesdays at 8/7c on CBS.
More: NCIS: I'm definitely not prepared for Abby & Tony's goodbye
Before you go, check out our slideshow below.